How is agricultural fertilizer made?
Agricultural recycling benefits both environment and merchants, who are occupied in such productions, such as fertilizer and biogas. So, many farmers and people begin to classify them separately. And then they convert the wastes into treasure instead of throwing them randomly. As a fast-developing and profitable commerce, fertilizer production from agricultural recycling is prone to taking up much worldwide market. Whether you are a beginner or elder in fertilizer making, SEEC introduces preparations you have to do for your fertilizer business. Here you can know what and how you need to do during the agricultural waste fertilizer production. Meanwhile, there are also other relevant messages for agricultural waste fertilizer commerce development.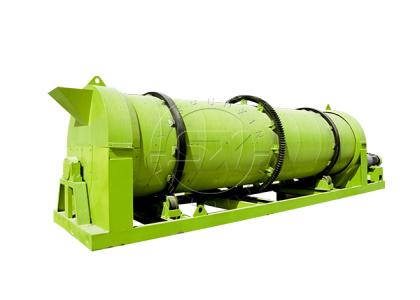 Why recycling agricultural wastes is more and more popular?
It will damage environment and living standard if you choose piles up the agricultural wastes and fire them. In the wake of advocation to protect our living planet, some of researchers began to seek for the best ways for managing the agricultural wastes. Owing to its content of organic matters and other abundant nutrients, recycling agricultural wastes benefits people to a large extent. People can treat agri waste to wealth. For example, apart from its usage for animal bedding and coarse fodder, the straw is one of the brackets to marsh gas production and fertilizer production via special process with corresponding machines. And some of merchants see a greatly huge chance to get profit. The agricultural wastes recycling is favored. The following is the basic information about fertilizer production with SEEC agricultural recycling machines.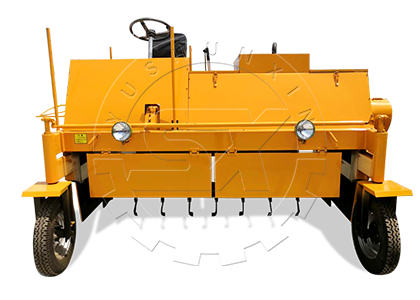 How agricultural waste is recyclable with SEEC waste recycling machines?
There leaves two methods to support your recycling wastes fertilizer production. One is to turn recycling agricultural wastes to powdery fertilizer and the other is to granulation fertilizer. The powdery agricultural fertilizer adopts the productive means of composting, batching, crushing, screening and packing. If you have enough labor force and would like to save the cost, you can apply a necessary agricultural waste dedicated compost turner and another agricultural waste dealing crushing machine. However, the pellets fertilizer making covers a more complicated process. To produce agricultural waste granulation has to go through such procedures as composting, batching, crushing, screening, pelleting, drying, cooling, screening again and packing. During the production of granulation fertilizers, the necessary machines include composting turner, grinding equipment, screening facility and granulating tool. For sake of a greater user experience, you can consult SEEC workers with most suitable machines fitting for your fertilizer production business.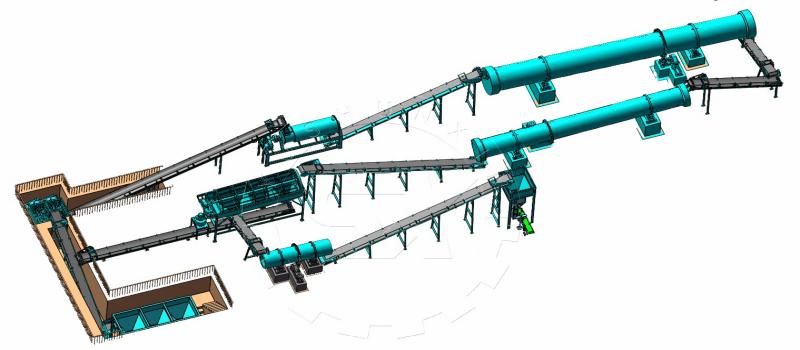 SEEC agricultural wastes recycling machines provide you with turnkey solutions for your fertilizer production
For the sake of the agricultural wastes recycling methods mentioned before, here comes the necessary SEEC agricultural wastes managing machines in your fertilizer production from agri materials.
Groove type compost turner
SEEC groove type compost turning machine is for large scale organic fertilizer production plant. You need to establish your own fermentation tank if you decide to put this machine into use. During putting the machine into service, the host holder stands on the tank wall and its stirring tooth works on the recycling agricultural compost evenly. You can obtain well-produced agricultural waste compost through 20 days' fermentation. Additionally, if you have several fermentation tanks, you can equip with a shift machine. Then, you can realize your cost-saving fertilizer production.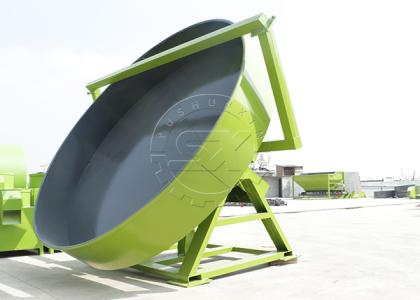 Semi-wet material crusher
SEEC semi-wet agri wastes crushing machine mainly used for pulverizing fermented materials. When you use this crusher, you need to assure the wastes moisture in the scope of 20-40%. After that, you can take your materials into the feeding port of fertilizer grinder by belt conveyor or manpower. And then, you will get 5-8mm final powder. In addition, it is energy-saving for the agricultural wastes devoted crushing machine to use electric motor.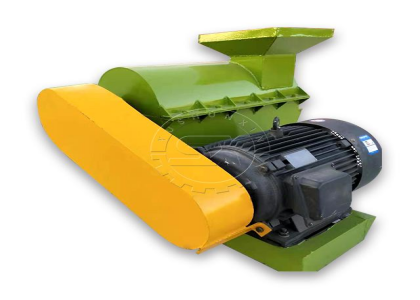 Organic fertilizer granulator
SEEC organic fertilizer granulator has advantages on dealing recycling agricultural materials to pellets. You can send materials into the machine with 30% water content from the feeding port. 3-5 minutes later, you will get harder granules than normal machines produced. Besides, the granule rate is also within satisfactory. The finished granule size with 3-5 millimeter reaches more than 97%. It has not only high efficiency, but also high quality since the material for stirring tooth is made from manganese steel. Therefore, it is necessary for you to worry about its life service.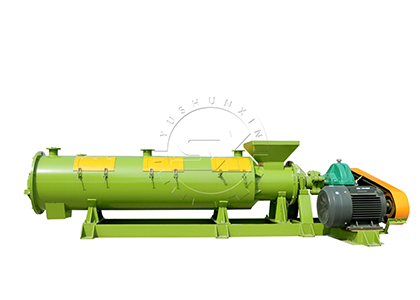 Rotary screener
With tertiary screening design, you can get qualified and required fertilizer balls from SEEC agro-waste dedicated screening machine. Due to its inclining angle, when you use this equipment, you need to put the wastes from the higher side and you can get the smaller balls first, the standard balls next and the bigger balls third. During the balls screening process, your organic fertilizer production line will automatically recycle unstandardized pellets. The smaller granules will go to its place in granulator to make granules once more while the bigger ones will return to crushing process to experience grindings and then to granulating machine again.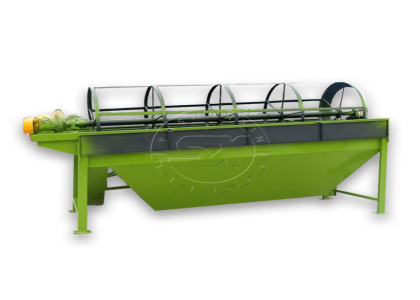 What are the agricultural materials reused to make your own fertilizer?
In producing organic fertilizer from agricultural wastes, what types of materials are recyclable? Broadly speaking, agricultural wastes include plant wastes as well as animal and life manure. In a narrow sense, you can put these wastes into use in a second time. SEEC has various fertilizer production line for you to recycle them. For example, you can choose our manure fertilizer making machine for turning animal waste into organic fertilizers.
The first class is residuals from farmland and orchard, such as straw, weeds, leaves, fruit shells, cirrus, branches, useless bush as well as plants and so on.
The poultry manure and their beddings belong to the second type of agricultural materials for fertilizer production. It includes dairy cow dung, chicken manure, pig wastes, sheep poop, rabbit manure, goose wastes, pigeon feces, horse dung, duck manure, etc.
The third type of agricultural wastes you can deal with is castoffs from farm products processing industry. At last, you also can manage wastes from pineapple, melon, pear, banana, mango and vegetables to make fertilizer. You can change all the agricultural materials mentioned above into valuable fertilizer with the help of SEEC fertilizer making machines.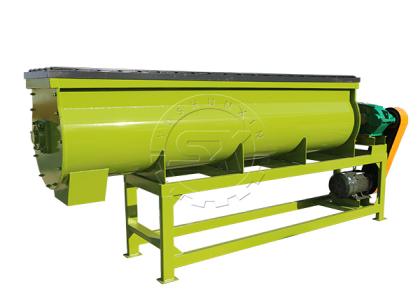 How recycling agricultural wastes can help you boost your bio fertilizer production business?
With effective results on crops production and soil fertility promotion, organic fertilizer from agricultural wastes has a larger market and wider application. In the view of that, in order to ferment the material in a faster way, you can produce your own bio organic fertilizer as well. The method to manufacture bio fertilizer from recycling agriculture is easy reference to the way making organic fertilizer. When your agro-waste is fully composted, you can add biological bacterium agent into it and uniformly mixing. In this way, with the features of easy operation, even stirring the agricultural wastes, convenient transfer and affordable price, SEEC agricultural processing disc mixing machine is able to help you make economical and profitable bio organic fertilizer.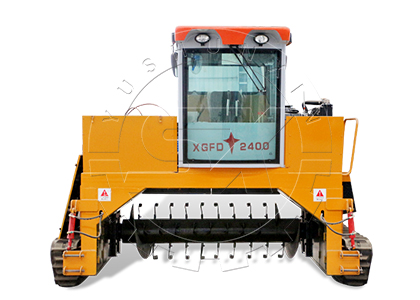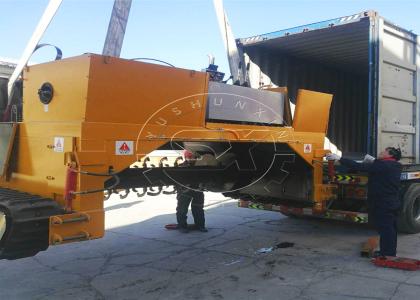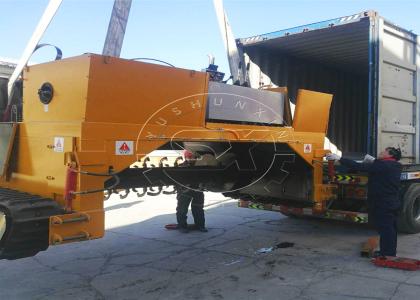 Is it possible for farmers to use recycling agricultural wastes to produce compost fertilizer?
If you want to produce organic fertilizer or bio organic fertilizer from agricultural wastes for personal use, SEEC will assist you for your own fertilizer production project. That is to say, it is easy for farmers to manufacture their own organic fertilizer. And we are capable of providing fertilizer making machines to save your cost on fertilizer purchase. Due to producing individual using fertilizer, prior to composting wastes, farmers need to collect their agricultural materials together and pile up the materials in a long strip which is in the limitation of 20 meters. At the same time, you also need to pay attention to the pile width and its height. If you need to calculate the area for agricultural wastes fermentation, we can provide you detailed machine parameters and capacity. Next, you can use SEEC crawler type compost turning machine to turn your recycling agricultural compost uniformly. About 20 to 25 days later, you can get first quality agricultural compost fertilizer. (Reference: As for SEEC 1t/h organic fertilizer production line, you need to pile up the compost within a 3-meter width and 800-millimeter height.)