Biosolid wastes are composed of agricultural wastes, animal manure, city wastes, industrial wastes and so on. Those discarded wastes are no longer useful so that people ignore them to a large extent and put them into waste dump casually. However, due to their inborn valuable elements, those biosolid wastes are capable of recycling. After treating them as fertilizer production requires, the wastes are able to be a "catalyst" for crops as well as plants and a "nutrient agent" for the soil. And SEEC heavy industry has the ability to help you use the wastes once more, next comes the brief introduction of both fertilizer machines as well as frequent questions for biosolids management.
Make the best use of biosolids with SEEC corresponding disposal machines
It is improper and forbidden to abandon the solid wastes at random since in the course of their decomposition, the wastes will release disgust or toxic gas in the air in the wake of the reaction with oxygen, which will not only pose a severe threat to human's living as well as health conditions but also impede the pace of environmental protection. With the prosperity of modern technology and economy and the rising awareness of environmental conservation, people begin to utilize the organic matter for biosolids management to develop such careers as fertilizer production, fuel industry, electricity power, etc. Among those emerging industries, fertilizer production wins its place with its low cost and high return.
As the first batch of people who developed fertilizer machines in China, SEEC fertilizer equipment making company designs and manufactures his machines dealing with each period of the fertilizer production: composting apparatus for biosolid wastes fermentation, crushers for crushing biosolid wastes into powder, mixing machine for uniform material blending, granulator for pelleting the biosolid powder, etc. With these machines, the effects of biosolids management will be better.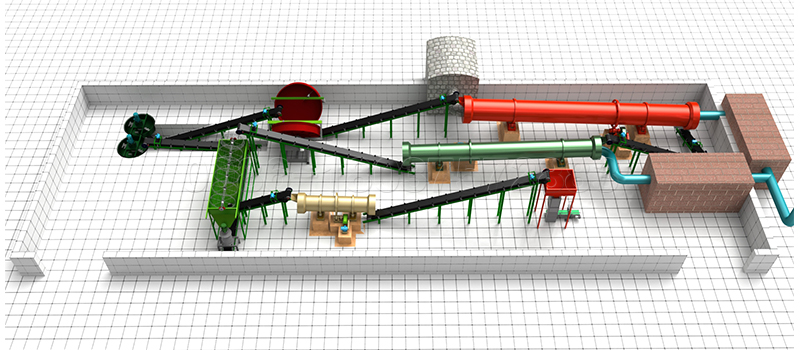 What are the scientific methods in composting agricultural biosolid waste?
Do you want to begin your organic fertilizer production business in a systematic way? As the fermentation is the first step for you to start your organic fertilizer production, SEEC biosolid wastes managing composting machine helps you initiate a perfect and scientific compost of agricultural biosolid waste. Next, there will present the methods for composting agricultural biosolid waste from the view of cooperative SEEC crawler compost turner. First of all, you need to pile up the agricultural wastes within its capacity (For example, when you use SEEC SEECLDF-2600 composting machine, you need to control the pile height within 1.1-1.3 m, pile width within 2.6 m and cross-sectional area within 1.43-1.69 m2 ). Second, fermenting the material strip until its temperature get stable and the agricultural wastes becomes powder holding by hand. In this way, you can go on the next dealing step.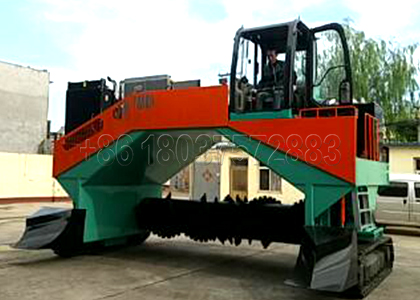 SEEC biosolid dedicated granulating machines to deal with livestock wastes?
In the biosolids management, granulation process being the most crucial step. Most of the customers concentrate their eyes on the quality and features of the biosolid disposal granulators. SEEC has pelletizers which specialize in dealing with livestock wastes—pan granulator, new type organic fertilizer granulating machine, rotary drum pelletizer and rotary drum stirring granulator. Here goes an example with disc pelletizer for you. Without recycle, SEEC disc granulating machine can produce at least 90% of top-quality granules. Compared with the closed type pan machine, SEEC open pan type will not generate dusts in combination with the iron sheet house. And you can adjust the angle can in accordance with your requirement. For your information, we can customize for you if you need.Besides, we promise the sturdy quality of our biosolid wastes dedicated pelletizer in terms of it is made of Q235B boiler steel.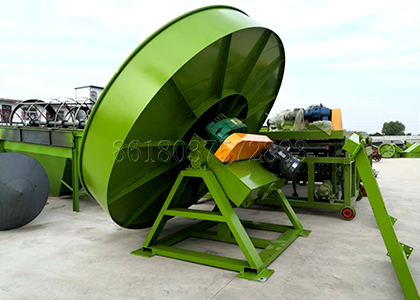 For your reference, after the granulating, there will be some other process you can do for better granules manufacturing effects. We have complete fertilizer granulation line for you to know the detailed information.
SEEC biosolid processing machines creates a green and neat environment for you
Almost all of the people are facing the problem of garbage classification, especially in confusion of domestic waste management, such as garden wastes, yard wastes, coal cinder and so on. Under this circumstance, do you want to make your home as clean as origin? Are you eager to treat your household wastes into organic fertilizer? Are you ambitious to make organic fertilizer by your own for your plants and flowers? SEEC fertilizer facility manufacturing company has products for sale to satisfy your needs—composting machine, crushing equipment, mixing devices, granulating facility, batching tools, packing apparatus, conveying belts and other auxiliary units. If there is some needs or questions, please contact us so as to achieve detailed answers.
Favorite method to cope with industrial biosolid wastes
It is worldwide known that there leaves sludge in the process of treating municipal sewage as well as industrial wastewater. As a matter of fact, the treated sewage contains rich nutrients, organic matter in particular, on account of which the wastewater has advantages to be organic fertilizer. Hence, during fertilizer production, you need to pay attention to restrict the emission of the industrial wastewater with heavy metal elements and take effective measures to decline the content by using relevant additive agent like metal passivator. And SEEC fertilizer machine making factory is devoted to provide fertilizer equipment to those who would like to be in progress of or intent to start fertilizer business. Our fertilizer devices commerce includes both organic production line like poultry manure production line and inorganic production line like BB fertilizer production line.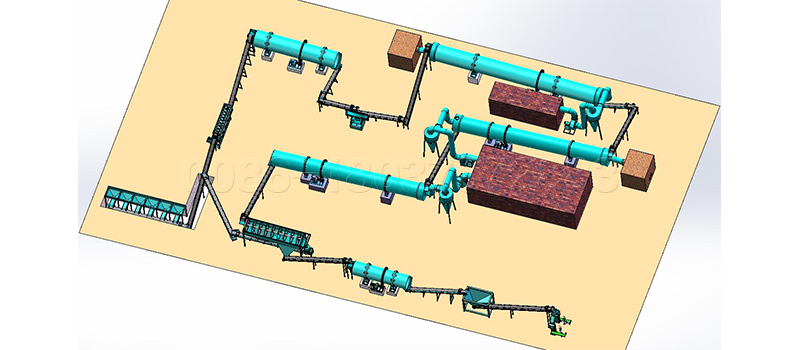 Tips for production of organic fertilizer in the course of biosolids management
Focus on the odor solutions when you compost the bio solid wastes in the air.
The moisture of biosolid material should keep about 70-80% for fermenting.
When composting bio solid wastes with the aid of either compost turning machine or fermentation pot, add normal fermentation bacteria (0.1-0.2% for per ton biosolid material is enough.).
In the earlier stage of biosolid wastes fermentation, you need to turn them 3 times per day while in the later, it is sufficient to turn them 1 time every two days.
When you use the pan granulator, adjust its angle and rotary speed according to your required size of pellets.
If the workshop in your organic fertilizer plant has a serious request for dust content or density, supplying the shield made of steel is in one of our customized services.
Generally speaking, treating bio solid wastes into fertilizer is a way to give green back to our earth and benefit humans. If you are willing to be the responder, SEEC machine making factory is an intermedium to help you achieve great success.