Windrow composting equipment uses windrow composting methods for composting your organic manure materials. This machine can help you turn them into organic fertilizers quickly. Here SEEC provides you two types of windrow compost turner machine for you: crawler type and moving type composting machine. These two machines are effective for composting organic manure materials. These two machines are suitable for your organic manure fertilizer manufacturing plant. Both of them utilizes the advanced technology for composting. Besides, the price of SEEC windrow turner machine is factory price. Meanwhile, according to your budget and requirements, we will recommend the best machine for you.
Equipment required for turning windrow composting system
Windrow composting method is widely used in organic manure compost making line. It only needs an open air and ranked windrows. Then our compost turning machine can turn your material windrows efficiently. About 20 days later, the organic manure materials will be well composted.
Crawler type windrow turners for sale
The crawler type turning equipment is popular among our customers for organic composting making. It only needs one driver for controlling its moving and turning. Moreover, it is convenient for you to control the turning teeth. You can raise it up easily if the materials have been turned yet. Besides, there are also hydraulic type turning equipment for your compost making.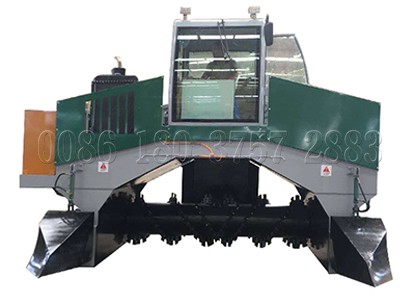 Self-propelled moving type compost windrow turner for sale
This machine is a convenient windrow turner machine. It can turn around, move forward and backward easily. If you do not have much space for composting, this machine will be suitable. Compared with the crawler type compost turning machine, it not only takes less space, but also costs less. Meanwhile, its production capacity is as large as crawler type composting machine.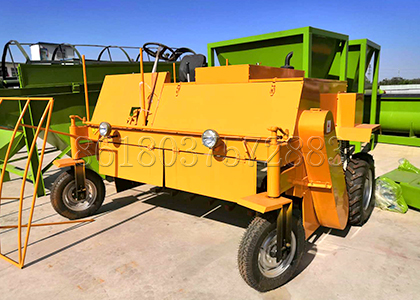 What should you do for preparation of windrow composting?
Composting manure materials by windrow composting, there are something you should do before you use our machines. Doing these steps, the composting process and effects will be better.
Adjusting the moisture content of your organic manure materials for fermentation
Generally, for fermenting well, it is better for you to make the moisture content of your manure materials be about 50%-60%. While, most of fresh organic manure has too much water content, which is not suitable for composting directly. Thus, it is important for you to dewater your organic manure materials. For your reference, SEEC has screw press manure solid liquid separating machine for you to control the moisture content. Especially, you can control the water content of dewatered materials easily.
Ranking the dehydrated organic materials into windrows
Using windrow composting equipment, you had better rank your materials into narrow and long windrows. And then you can drive our windrow turners for composting. For your information, when you make manure into windrows, you should control the height and width of windrows within certain limits. Because the compost windrow turner unit should stretch across the windrows. It is necessary to make the height and width of windrows match with the composting machine.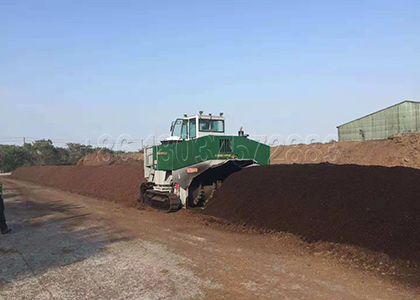 What new technology does SEEC use in windrow composting equipment?
As a professional organic manure fertilizer windrow turner manufacturer, SEEC uses new technology and designs for making your composting process better. All the windrow compost turning system takes advantages of aerobic fermentation technology for better composting effects. What's more, for operation, we employ dynamic composting methods for you to control the machines easily.
Aerobic fermentation technology
SEEC windrow turner machine adopts aerobic fermentation technology for processing your fresh manure into fertilizers. It is well known that there are anaerobic and aerobic fermentation methods for composting. And our machines ferment your materials aerobically. It can turn your materials for providing oxygen for composting.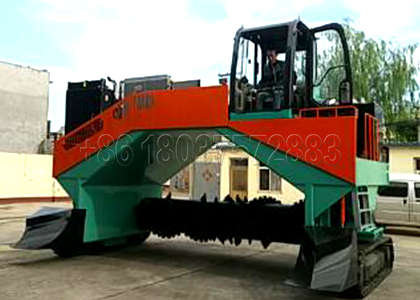 Dynamic composting methods
Generally, you can compost dynamically or statically. Our windrow compost turner equipment turns your materials dynamically. When the temperature of your organic manure materials reaches 55 degree centigrade, you can operate the windrow turner for turning materials. About 20 days later, the temperature will not raise and be stable. It means the whole composting is finished.
Besides the dynamic windrow composting machine, we also have static fermentation tanks. But the static fermentation is more suitable for large scale organic fertilizer making. Meanwhile, the static fermenter costs more than our window turners.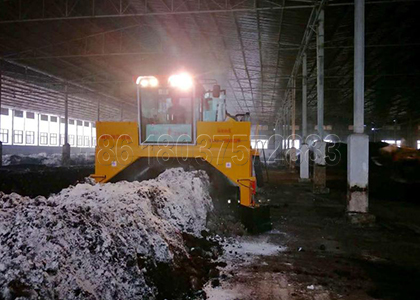 Which windrow composting equipment is suitable for your small scale organic fertilizer making plant?
For your small scale organic fertilizer making plant, SEEC moving type windrow is an economic choice for you. It is suitable for your plant if you do not have too much place for composting. You can drive this machine and control it conveniently in the open air or workshop. It has high working efficiency and large production capacity. Besides, its consumption and cost are less than the crawler type composting turner machine. Meanwhile, if you need, we can customize for you. For example, if you think there will be too much stinks or dust when composting, it is applicable to cover the cab.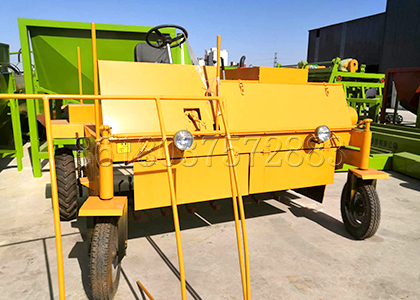 What is the compost windrow turner unit costs?
Buying windrow composting equipment for your organic manure production plant, SEEC crawler type compost turner and small scale moving type composting machine are good choices for you. Both of them are manufactured by our own factory. Thus, it can be promised that you can get the best prices in SEEC.
Our crawler type compost turner uses high quality materials and advanced designs for prolonging the service lifetime. Especially, it is alternative to choose the hydraulic or common type turner machine according to your requirements and budget. The hydraulic type is more expensive. Comparing with this machine, our moving type turner machine is more economic. If you do not have too much budget on it, you can choose our small scale windrow turning machine. Besides, it is available to customize for you. And then all the costs will depend on you. Meanwhile, it is applicable for you to purchase online. There are many modes of payment for you to choose.