How we turn the waste in windrow composting?
Windrow composting equipment uses windrow composting methods for composting your organic manure materials. It is a revolving machine turner for composting line to turn the windrows and aerate the composting material. This machine can help you turn them into organic fertilizers quickly. Here SEEC provides you two types of windrow compost turner machine for you: crawler type and moving type composting machine. These two machines are effective for composting organic manure materials. These two machines are suitable for your organic manure fertilizer manufacturing plant. Both of them utilizes the advanced technology for composting. Besides, the price of SEEC windrow turner machine is factory price. Meanwhile, according to your budget and requirements, we will recommend the best machine for you.
Equipment required for turning windrow composting system
Windrow composting method is widely used in organic manure compost making line. It only needs an open air and ranked windrows. Then our compost turning machine can turn your material windrows efficiently. About 20 days later, the organic manure materials will be well composted.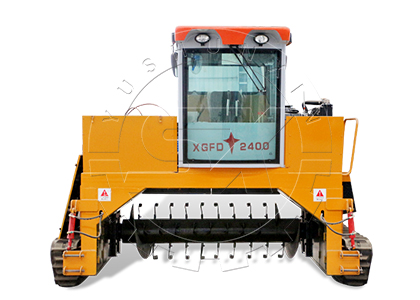 Crawler Type Compost Turner
Model: SXLDF-2300
Turning Width: 2.3m
Turning Height: o.6-1m
Row Spacing: 0.8-1m
Power: 75kw
Crawler type windrow turners for sale
The crawler type turning equipment is popular among our customers for organic composting making. It only needs one driver for controlling its moving and turning. Moreover, it is convenient for you to control the turning teeth. You can raise it up easily if the materials have been turned yet. Besides, there are also hydraulic type turning equipment for your compost making.
The crawler type compost turner belongs to the ground composting and fermentation mode. Firstly, it needs to stack the materials in long strips, then the crawler type compost turner slowly moves and flips on the long strip, regularly stirs and crushes the materials, and finally decomposes the organic matter under aerobic conditions. The crawler type compost turner can replace high-strength manual turning, which greatly saves a lot of time and labor, and creates a better aerobic environment for material fermentation. The crawler type compost turner uses a crawler-type walking design, which has a large contact area with the ground and will not slip. It is powered by a diesel engine with low energy consumption and stable performance. The equipment can automatically adjust the turning speed according to the looseness of the material pile. The operator only needs to control the walking direction of the equipment, which saves time and effort.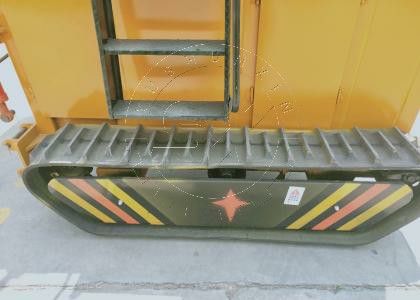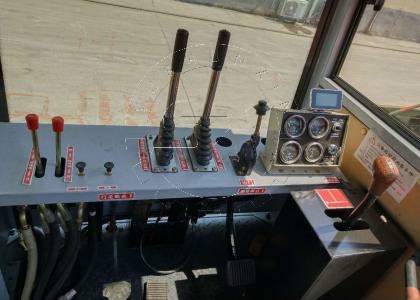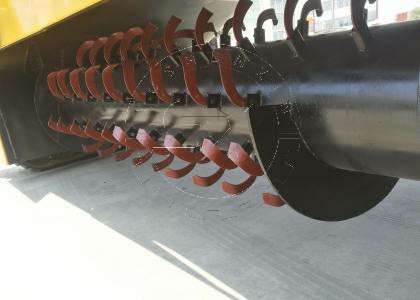 What are the advantages of the crawler type composter?
The walking process is stable, the contact surface between the track and the ground is larger, and there is no slippage.
The turning drum can be lifted hydraulically, which is convenient for the treatment of ground clearance.
The helical blade of the drum is detachable, which is convenient for maintenance and replacement.
The crawler is driven by a hydraulic motor, with good adhesion, low ground specific pressure, and strong ground passing ability.
The two sides of the crawler can be controlled independently, and it can be turned around on the spot to improve the utilization rate of the material stacking site.
The drive is stronger, and self-contained palletizer for automatic palletizing, eliminating the trouble of traditional stacking first and then turning over.
The main parameters of the new hydraulic crawler turner are as follows:
| Project | Specification | Project | Specification |
| --- | --- | --- | --- |
| Turning Width | 3400mm | Power | 144 hp electric starter |
| Turning Height | 1620mm | Mix Rotating Speed | 2200rp/m |
| Pile Row Spacing | 0.6-0.8m | Capacity | 100-2000m3/h |
| Working Speed | 0-10m/cm | Driving Speed | 0-20m/cm |
| Large diameter of material particles | 250mm | Gear Position | 2 |
| Working Knife Diameter | 800mm | Vehicle Weight | > 5T |
If you want to know more information about new hydraulic crawler turner, please email us!
Self-propelled moving type compost windrow turner for sale
This machine is a convenient windrow turner machine. It can turn around, move forward and backward easily. If you do not have much space for composting, this machine will be suitable. Compared with the crawler type compost turning machine, it not only takes less space, but also costs less. Meanwhile, its production capacity is as large as crawler type composting machine.
The moving type compost turner uses a four-wheel walking design that can be driven by one person and can move forward, backward and turn, is flexible and free. There is a separate cab on the moving type compost turner. There are windows to isolate it from the outside, so there is no need to worry that the operator will be polluted when turning. If your material is too dry to be thrown, the moving type compost turner is equipped with a water tank, and you can add water when throwing. In addition, the machine has a fan as the a cooling system, so you don't have to worry about the heat dissipation of the machine. Finally, the walking type compost turner uses a diesel engine as a power source, and the fuel consumption is about 8 liters per hour.
The moving type compost turner is a pile turning equipment that integrates the functions of walking, crushing, mixing and turning. It has the advantages of uniform mixing, thorough turning and long moving distance. It is widely suitable for fermentation of organic wastes such as livestock and poultry manure, sludge waste, organic fertilizer plants, mud waste plants, horticultural fields and straw sawdust.
The moving type compost turner has the following advantages:
The operation is simple and convenient. It only takes one person to drive the machine to turn over an entire pile of compost. It is easy to start and save a certain amount of cost.
The construction cost is low. This method of composting and fermentation only needs to stack organic fertilizers and does not require a professional trench for fermentation. It is simple and easy to operate and is suitable for small-scale production and places where production conditions are not very good. Do not spend too much human resources and material resources to carry out careful debugging.
The turning effect is good. The moving type compost turner can effectively turn the organic manure compost so that the compost can obtain sufficient oxygen during fermentation, which increases the fermentation efficiency.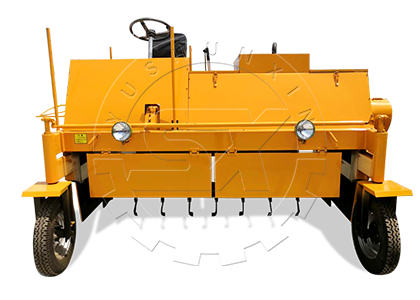 Moving Type Compost Turner
Model: SXM-2500
Compost Width: 2200mm
Compost Height: 600-800mm
Stacking row spacing (mm):500-850
Maximum diameter of material particles (mm):250
Moving Speed: 4.5-5.5m/min(adjustabl)
Color: Yellow(can be customized)
Processing capacity (m2/h):300-400
What should you do for preparation of windrow composting?
Composting manure materials by windrow composting, there are something you should do before you use our machines. Doing these steps, the composting process and effects will be better.
Adjusting the moisture content of your organic manure materials for fermentation
Generally, for fermenting well, it is better for you to make the moisture content of your manure materials be about 50%-60%. While, most of fresh organic manure has too much water content, which is not suitable for composting directly. Thus, it is important for you to dewater your organic manure materials. For your reference, SX Machinery has screw press manure solid liquid separating machine for you to control the moisture content. Especially, you can control the water content of dewatered materials easily.
Ranking the dehydrated organic materials into windrows
Using windrow composting equipment, you had better rank your materials into narrow and long windrows. And then you can drive our windrow turners for composting. For your information, when you make manure into windrows, you should control the height and width of windrows within certain limits. Because the compost windrow turner unit should stretch across the windrows. It is necessary to make the height and width of windrows match with the composting machine.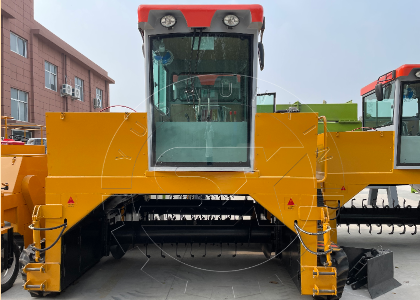 What new technology does SX use in windrow composting equipment?
As a professional organic manure fertilizer windrow turner manufacturer, SX uses new technology and designs for making your composting process better. All the windrow compost turning system takes advantages of aerobic fermentation technology for better composting effects. What's more, for operation, we employ dynamic composting methods for you to control the machines easily.
Aerobic fermentation technology
SX windrow turner machine adopts aerobic fermentation technology for processing your fresh manure into fertilizers. It is well known that there are anaerobic and aerobic fermentation methods for composting. And our machines ferment your materials aerobically. It can turn your materials for providing oxygen for composting.
Dynamic composting methods
Generally, you can compost dynamically or statically. Our windrow compost turner equipment turns your materials dynamically. When the temperature of your organic manure materials reaches 55 degree centigrade, you can operate the windrow turner for turning materials. About 20 days later, the temperature will not raise and be stable. It means the whole composting is finished. Besides the dynamic windrow composting machine, we also have static fermentation tanks. But the static fermentation is more suitable for large scale organic fertilizer making. Meanwhile, the static fermenter costs more than our window turners.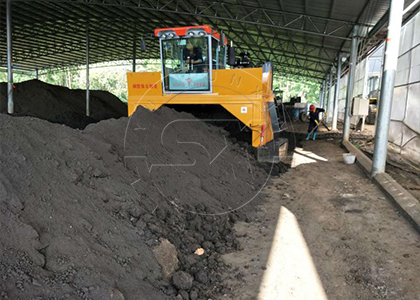 Which windrow composting equipment is suitable for your small scale organic fertilizer making plant?
For your small scale organic fertilizer making plant, SX moving type windrow is an economic choice for you. It is suitable for your plant if you do not have too much place for composting. You can drive this machine and control it conveniently in the open air or workshop. It has high working efficiency and large production capacity. Besides, its consumption and cost are less than the crawler type composting turner machine. Meanwhile, if you need, we can customize for you. For example, if you think there will be too much stinks or dust when composting, it is applicable to cover the cab.
4 features of Windrow Compost Turner
The windrow compost turner is a machine integrating crushing, walking, turning, and stacking. The crushing function not only saves a crusher but also improves the crushing efficiency and reduces the cost, so it is ideal equipment for your composting.  
Flexible Site
The windrow compost turner is suitable for the composting of small-scale organic fertilizer materials. The organic fertilizer materials are stacked in the shape of long strips. The width can be determined according to the working width of the windrow compost machine. It achieved fast composting by turning the heap back and forth. The advantage of this type of equipment is that the site does not limit it and is flexible and free.  
Better Effect
The window compost turner is designed according to the principle of aerobic fermentation so that the fermentation bacteria have space to fully exert their functions.  
Low Cost
The power of the whole machine is balanced and suitable, the energy consumption is low, and the output is large, which reduces the production cost of organic fertilizer and makes the finished fertilizer form a price advantage.  
Dual Functions
The body is equipped with a drum and a knife-shaped tooth, which has the dual functions of turning and crushing the material, which can not only turn the manure, sludge, and other materials evenly. It can effectively crush the plate agglomeration in the fermented material. Our machine diesel engine has its own electrical and front shovels hydraulic system. And our machine diesel engine uses an international famous brand with low emissions. This will save you some money. For producers who are building a factory for the first time, with a small production scale and insufficient funds, it is more suitable to choose a stacking composter. This kind of turning and polishing machine does not need to build a fermentation tank, but only needs to have a flat cement floor, which can save a lot of infrastructure costs.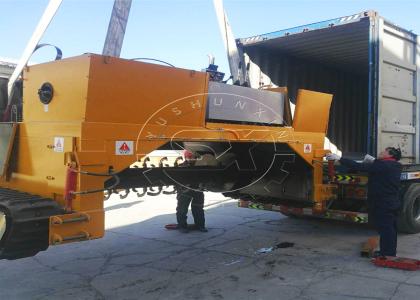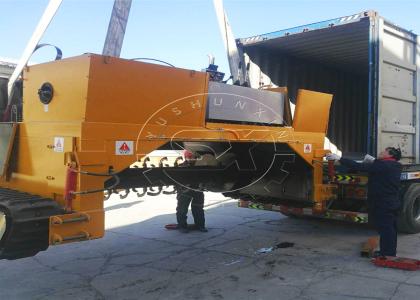 What is the compost windrow turner unit costs?
Buying windrow composting equipment for your organic manure production plant, SX crawler type compost turner and small scale moving type composting machine are good choices for you. Both of them are manufactured by our own factory. Thus, it can be promised that you can get the best prices in SEEC. Our crawler type compost turner uses high quality materials and advanced designs for prolonging the service lifetime. Especially, it is alternative to choose the hydraulic or common type turner machine according to your requirements and budget. The hydraulic type is more expensive. Comparing with this machine, our moving type turner machine is more economic. If you do not have too much budget on it, you can choose our small scale windrow turning machine. Besides, it is available to customize for you. And then all the costs will depend on you. Meanwhile, it is applicable for you to purchase online. There are many modes of payment for you to choose.