For organic fertilizer production, composting is necessary. Because it is the key to removing harmful substances in organic materials. In order to compost organic fertilizer quickly, you need to buy a suitable fertilizer compost machine, especially when starting a large scale fertilizer fermentation. Here, wheel type compost turner from SX is an ideal choice for your farm manure waste disposal. It has characteristics of large capacity, high automation and two types for your choice. If you are interested in this fertilizer equipment, welcome to contact us immediately.
Get more details of wheel type compost machine!
---
When do you need to buy wheel type compost turner?
When buy wheel type compost machine for your commercial organic fertilizer making plant setup, you need to clear is it suitable for your conditions. Thus, under what circumstances is it advisable to use a wheel type compost turning equipment?
Organic fertilizer composting
As name suggests, this machine is designed for the aerobic fermentation of organic waste. This means, it is suitable for the disposal of chicken poop, cow dung, goat manure, mushroom waste, sludge, straw, saw dust, corn cob, etc. That is animal manure, organic industrial waste and agricultural waste.
Trench type fertilizer composting
Wheel type composter is an excellent choice to start organic fertilizer manufacturing in fermentation trenches. If you have built fermentation grooves, only need to install rails on the two sides, wheel type compost equipment can move freely to turn the organic materials. Then you can finish organic fertilizer compost quickly.
Commercial large scale fertilizer fermentation
This fertilizer compost is the best option for you, if you plan to setup a large scale organic fertilizer plant. Because it has a turning width of 8-30 m and a turning depth of 1-3 m, which are farm more than other fertilizer compost machines. Therefore, it can turn a large amount of organic materials into compost, which can even support the production of 20 t/h organic fertilizer.
Reducing groove type compost cost
Then because of the wide turn span, there is fewer fermentation groove wall needed. So using wheel type composter is beneficial for reducing your expense on infrastructure building. In addition, it adopts a fully automated electrical control system. No need operation when turning. Therefore, the cost of your labor force will also be greatly reduced.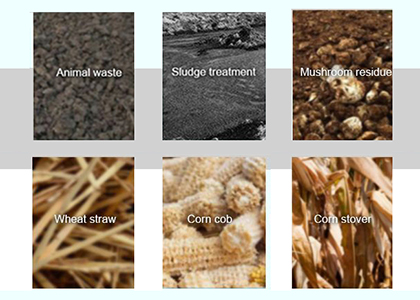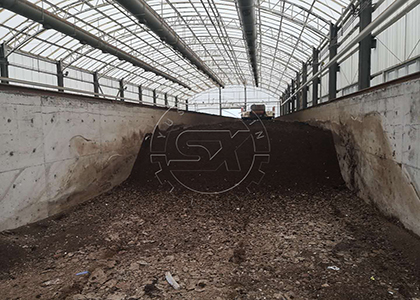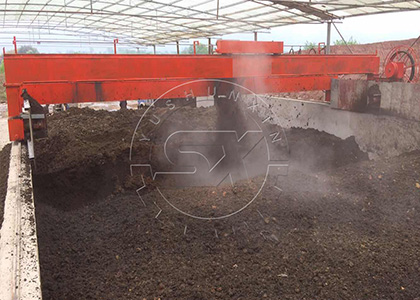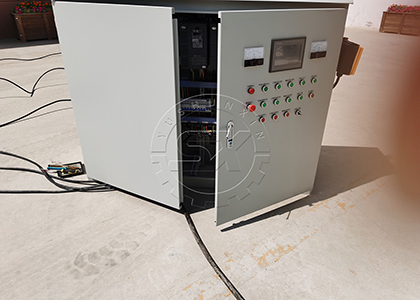 ---
Top 2 types of wheel type compost turning machines for organic fertilizer production?
After determining buy a wheel type compost machine, it is time to clear which type is suitable for you. In SX, there are two types of wheel type compost turners for your choice.
Single wheel type compost turner
As the picture shows, it mainly relies on single wheel turning part to finish the large scale fertilizer aerobic composting. When the wheel is rotating, it can throw material in the fermentation tank to a position 0.7-1 m away. In this process, materials will fully contact with oxygen, which is essential for generating heat to complete harmless process. At the same time, excessive heat can be dissipated to prevent high temperature killing beneficial bacteria in raw materials.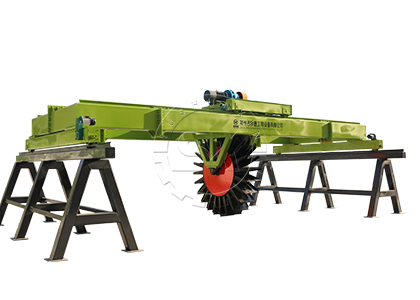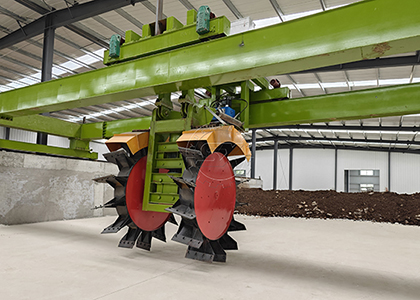 Double wheel type fertilizer composter
Double wheel type fertilizer composting equipment is based on the single wheel type compost turning equipment. It can meet your requirements for further improving fertilizer fermentation efficacy. With double wheels design, this machine has a larger contact area with fertilizer compost piles. So it can turn over more materials within the same time. In addition, if you need, we can also provide you with a four wheel compost turning machine for better large industrial fertilizer compost making.
---
What equipment is used in the whole wheel type composting system?
In order to help you compost organic manure faster, SX also design many other fertilizer machine for your choice.
Dewatering machine
Besides temperature, moisture content also plays an important role in fertilizer fermentation. It is advisable to keep it between 45% and 60%. But the most commonly used organic fertilizer making material – animal manure usually has a high moisture content. At that time, there is manure dewatering machine for you to remove excessive water effectively.
Fertilizer crusher
From the above introduction, oxygen content is essential for the fermentation of fertilizer. So for composting manure quickly, you can choose to enlarge the oxygen contact area. Here, the most effective way is to crush organic materials into fine powder. And for high moisture materials, vertical crusher and semi-wet grinder are the best options.
Fertilizer mixer
If you want to add other materials to enrich your compost fertilizer nutrient. You also need to buy a fertilizer blender. It can help you mix various materials evenly, so you can produce organic fertilizer with uniform nutrient content.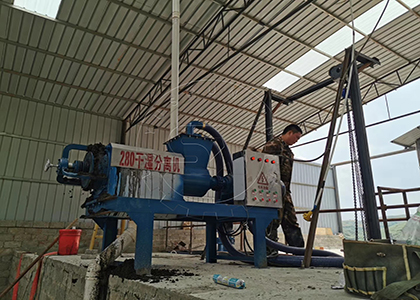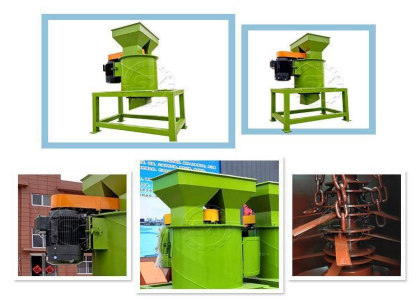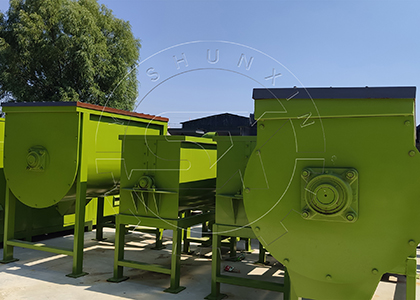 Moreover, if you want to make compost into organic fertilizer pellets, SX can offer you quality organic fertilizer granulator, rotary screener, dryer, cooler, coating equipment and packaging machines, etc. All in all, only tell us your requirements and actual conditions, we will give you the best solutions.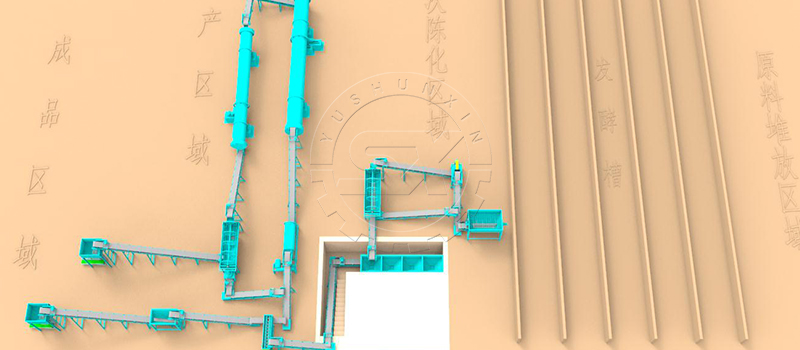 ---
What is the price of a wheel type compost turner?
Because of its large capacity and advanced design, you need to prepare $30,000-$55,000 (reference price) for wheel type compost turner purchasing. The precise price is closely related to output, types, design, etc. If you want to get a precise quote for wheel type compost turning equipment, welcome to contact us immediately.
How turning wheel works to turn compost piles with no dead angle?
Sometimes, you may wonder how the wheel works to fully compost organic fertilizer? Unlike groove type composter and chain plate type composter, this machine does not have a turning shaft which is nearly as wide as the fermentation trench. The reason is that we especially design advanced moving system for turning wheel. In this way, it can move horizontally and vertically to adjust turning speed, depth and position. So it can turn compost piles with no dead angle.
---