What Machines to be Use to Convert Cow Dung into Organic Compost?
When you feeding your cows, you may worry that how to make compost manure from cow dung. If you only pile them together, they not only smell bad, but have an effect on our environment. So we try to various ways to solve this big trouble! What can you do to solve this problem? Maybe you have answer in your heart, that is composting cow manure. Believing that most people will choose compost their cow dung, because composting is an environmentally friendly and efficient method to deal with manure whether it's cow dung or other animal manure. In a modern society, our government encourages the establishment of modern farms. Actually an intensive environment also can benefit the growth of cows.
If you have a lot of cows, building a cow dung fertilizer production line can bring extra wealth for you. Do not only staring on you cows, it's manure also can be a gold. You may have some questions before composting cow manure, such as is cow manure suitable for composting? How to compost cow dung before using as a fertilizer? How to know when cow manure is composted enough? Do not worry! If you have a compost turner, you can solve these problems.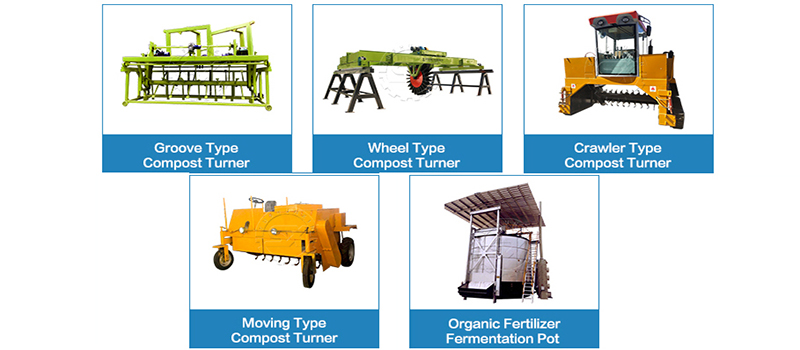 Why Using Cow Dung For Composting?
If you can compost your cow manure effectively, it has many benefits for farming and gardening. Cow dung contains three elements most needed for plant growth, nitrogen, phosphorus and potassium. Moreover, composting cow manure can eliminate harmful gases and pathogens , as well as weed seeds.
Low Price
Compared with chicken manure and other manures, cow dung have a lower price. When farmers want to buy manure to grow their crops, fruits and vegetables, the price must be the key element to consider. So cow manure is a proper choice.
Higher Organic Content
Cow dung contains a large number of nutrients needed by crops, such as nitrogen, phosphorus, potassium and other organic matter. After you apply the organic matter to the soil, the organic matter can effectively improve soil and enhance soil fertility.
More Environmentally Friendly
Turning cow manure into organic fertilizer is a more environmental friendly approach. It blocks the pollution of cow manure and turns cow dung into treasure.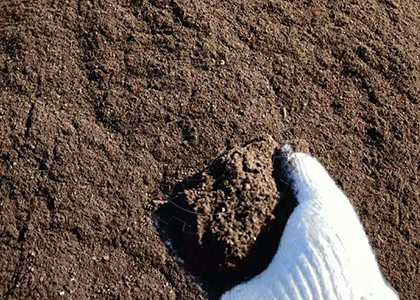 How to Compost Cow Dung before Using as a Fertilizer?
In some agriculturally developed countries, compost cow dung has a large market. Fertilizer needs are relatively high in these countries, so put your cow manure to good use! Do not take your cow dung for granted as useless waste. Here we offer you two compost turners for composting cow manure.
Groove Type Compost Turner for Composting Cow Manure
Before using the groove type compost turner, you need to build a trench. You can determine the length and width of the trench according to your own cow dung output. For example, you can choose 0.8 m, 1.0 m,1.2 m, 1.5 m, four turning depth as your requirements. Of course, you can set up multiple trenches to realize the use of multiple trenches in one machine. After you build the trench, you should put a track over the trench. Because the groove type compost turner moves back and forth along the track. When working, the high-speed rotating turning teeth of the machine turn the materials in the trench and throw them backwards. The groove type compost turner uses an electronic control system, there is no need to manual operation. You can turn automatically with just one key, which is why most customers choose it.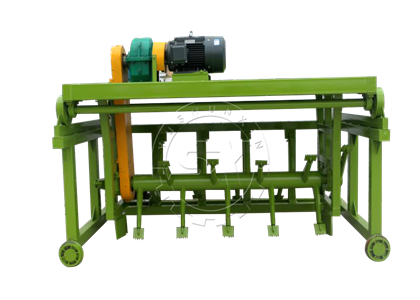 Secondly, you only need to put your cow dung and accessories in the trench, then add some fermentation bacteria, and use the groove type compost turner to automatically turn it. The rotted cow dung is loose in texture, has no peculiar smell, and smells of earthy fragrance. After you ferment the cow dung well, You can granulate your cow manure with a granulator. The cow dung turned by the turning machine can be better granulated. The produced granules have beautiful appearance and high granulation rate. The material of our compost turners is stainless steel, the material of the turning teeth is 16 Mn. You should change the turning teeth 0.5-1 year one time. The groove type compost turner is ideal for composting cow manure.
Wheel Type Compost Turner for Composting Cow Manure
Wheel type compost turner is suitable for large scale organic fertilizer production manufactures or farms. It also need to build a trench, usually the width of the trench starts at 8-10 meters. The depth of the turner can reaches 1.5-3 meters. The middle of the wheel type compost turner uses a chain transmission device to drive the middle turning disc to turn symmetrically. It can complete large-span turning work with low energy consumption. In addition, the compost machine uses a hydraulic lifting system, and the turning plate can be automatically raised and lowered to ensure that the equipment can be moved without obstacles. From the model, we can see that this turner is suitable for farms or organic fertilizer manufacturers with a relatively large amount of cow dung.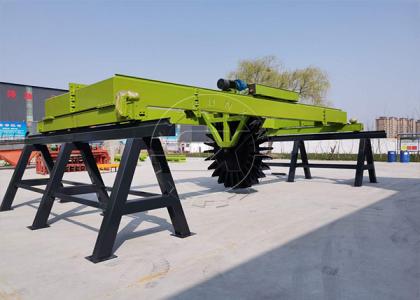 What Equipment is Needed to Build a Cow Dung Organic Fertilizer Production Line?
If you want to establish a cow dung fertilizer production line, you need to know some extra machines. Composting is the key part in the production of cow dung organic fertilizer. In addition to composting, there is also an essential granulation part. Of course, a complete fertilizer production line also needs crushing, mixing, drying, cooling and packaging. The specific production process is that after the organic fertilizer raw materials are fermented, they enter the semi-wet material crusher for crushing, and then add the missing nutrients to meet the national organic fertilizer standard, enter the mixer for mixing, and then enter the granulator for granulation. It needs to be dried and cooled, the qualified products are screened by the screening machine, and the unqualified products are returned to the granulator for re-granulation. So what equipment does a complete cow dung organic fertilizer production line need? We recommend the following equipment to you.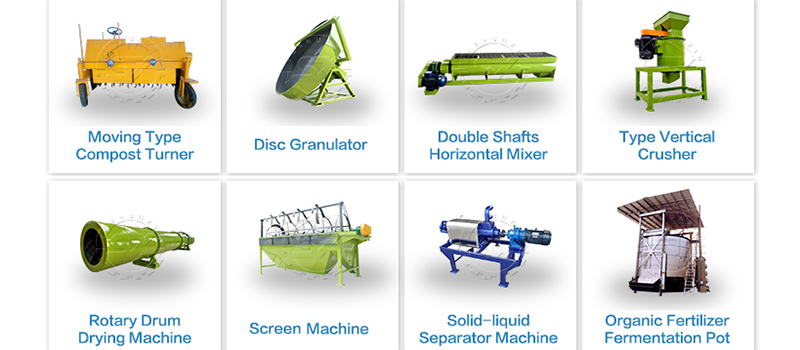 New Type Vertical Crusher
Used for crushing any material. The advantage of our equipment lies in the double feed openings, which are more uniform. There is a shield above the feed opening to prevent splashing and spilling; the double-layer chain inside the crusher and the three-layer blade make the crushing effect better. It has an observation window, which is easy to observe the operation principle. It has strong adaptability to materials with high moisture content, such as cow dung, which is not easy to block, and the material discharging is smooth.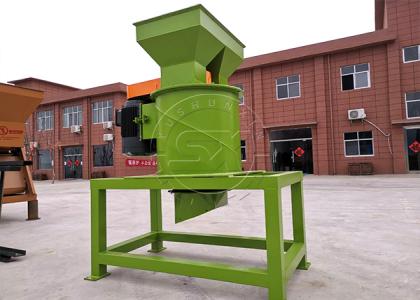 Disc Mixer
Vertical disc mixer is a kind of equipment specially used for organic fertilizer mixing. It has a small area and high mixing efficiency. The advantage of our equipment is that the mixing blades are made of wear-resistant special alloys and have a long service life. And it is easy to use and smashes thoroughly.
Rotary Drum Granulator
The advantage of the rotary drum granulator is that the output is high. A complete production line generally uses the drum granulator, which is also the choice of most customers. The advantage of our equipment is that it has a rubber lining inside to prevent sticking to the walls. There are also stainless steel bars inside. The outer body adopts a one-time forming spiral tube, and the quality is high. There are round holes on the outer wall. If there is material sticking to the wall, you can hit it with a small hammer to prevent sticking to the wall.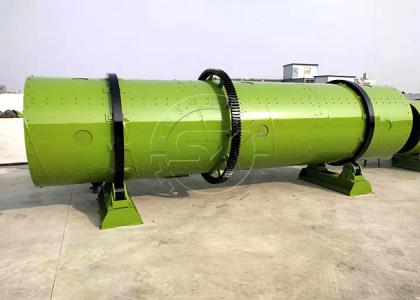 Drying and Cooling Machine
Why do you need to dry? The moisture content of the fermented material is 30%-35%, and the moisture needs to be 45% during granulation. Therefore, the moisture content of the granules produced by wet granulation is relatively large, and it needs to be dried and cooled before packaging.
The appearance and structure of the dryer and the cooler are the same, but the heat source provided is different. Normally, the size of the dryer is larger and the size of the cooler is smaller. The biggest advantage of our dryer and cooler is that the barrel is an integrally form spiral tube. The thickness of the plate is the same from the beginning to the end, and it is relatively straight.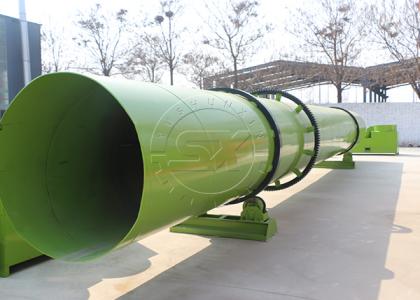 Screening Machine
We have two types of screening machine, respectively powder screening machine and granule screening machine. The function of the screening machine is to screen out the materials that are not completely crushed or have impurities that need to be screened out after crushing. The material of the screening machine is stainless steel. The powder screening machine has two discharge ports, one for finished products and one for waste products. The difference from the powder screening machine is that the granule screening machine is equipped with three discharge ports, one for large particles, and then into the crusher; one for finished products; and one for powdered fertilizer.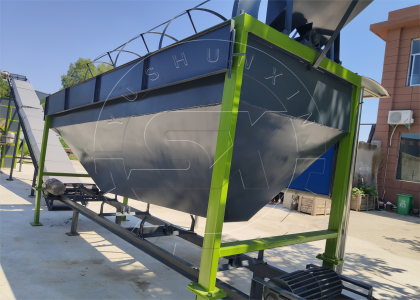 Packaging Machine
The packaging machine is the last process of fertilizer production line, and it needs to pack the granulated fertilizer for you. Packaged organic fertilizers are ready for sale.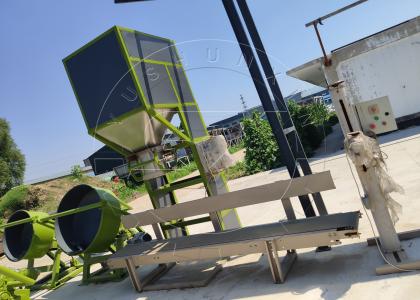 You can completely trust our equipment, we constantly integrate advanced accessories at home and abroad, such as Siemens, Schneider, ABB, etc. We also attach great importance to the improvement of equipment quality, constantly develop new products, and have obtained many patent certificates. After more than ten years of development, our customers are all over the world. We have also received many customers visiting from abroad, like India, Uzbekistan, Switzerland, Sri Lanka. Hope this article will be helpful for you to compost cow dung and build a cow dung organic fertilizer production line. It is worth mentioning that our equipment has great discounts compared to other countries! You are welcome to inquire, we will sincerely answer your questions!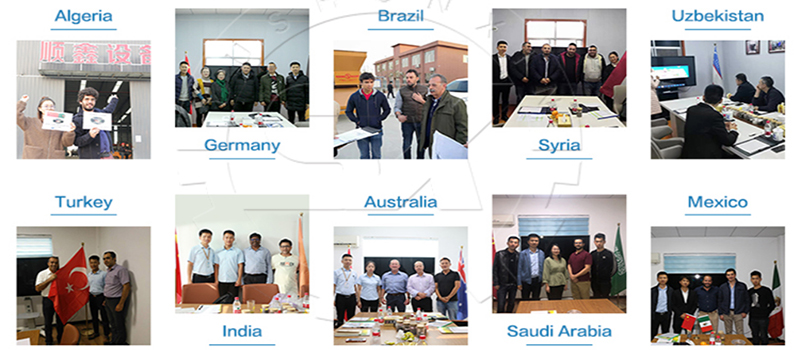 Steps to Cow Manure Commercial Composting Plan
Collect your cow manure. Or buy some cow dung from a local farmer. Usually this cow dung is of little use to them and can be bought at a low price.
Make empty place for composting. Choose a clearing or a large shed to compost your cow manure. It can be close to your ranch, farm or farm. Keep away from underground water sources and dense residential areas to prevent water pollution and affect residents' lives.
Obtain a permit or license from the relevant place. If you want to expand production or compost commercially, then you need government approval. Don't worry, in some countries you can apply directly online.
Choose the way of composting. You can choose window composting, trench composting or in vessel composting. Build up composting space based on how you compost.
Turn over your compost pile regularly. Long-term natural fermentation is not feasible, you need to speed up the composting time. Using a turner is the most effective option. The efficiency of a turning machine is much higher than your imagination. It can shorten a three-month composting period to just one week.
Turn your manure into a fertilizer program. Learn about the production process of fertilizers, and use machines to convert composted cow manure into organic fertilizers.
Develop fertilizer marketing plan and establish cooperative relationship with local farmers and enterprises. This way your organic fertilizer will be sold to local farmers.
Establish fertilizer production plan. Formulate annual or monthly production volume, and make appropriate adjustments according to demand.
Cow dung is an excellent organic fertilizer raw material, rich in plant-absorbable substances. Composting cow manure into organic fertilizer can provide rich nutrients for plants in gardens, vegetable gardens, orchards, etc. Before you start making cow manure organic fertilizer, you should plan well. You can estimate how much organic fertilizer is being produced by looking at your monthly cow manure production.