Consider the source of raw materials for organic fertilizers
The raw materials of organic fertilizers are rich and varied. Common sources of organic fertilizer raw materials are chicken manure, pig manure, cow manure and other livestock manure. In fact, in addition to manure, sludge, agricultural waste, kitchen waste, biogas residue, cake residue, municipal waste, etc. are all sources of organic fertilizers. For example, in 2020, a customer from Algeria, his raw materials are biogas residue, rice husk and cassava residue. We ended up recommending the drum granulator to him. So first you need to determine the raw material of your organic fertilizer. Of course it is best if you own a livestock farm. You don't need to worry about the source of raw materials.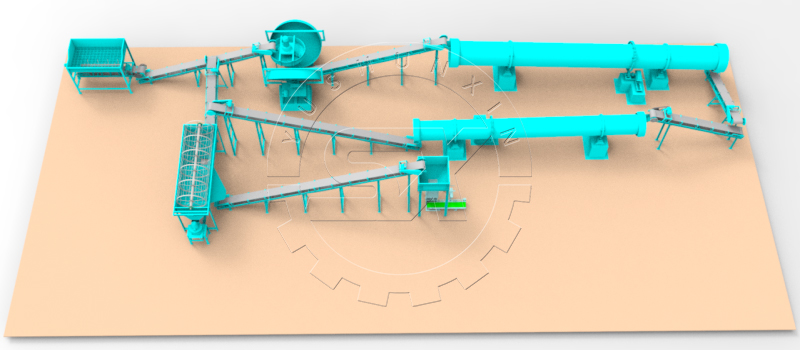 Understand the production process of organic fertilizer
First, you need to decide whether you want to produce powdered organic fertilizer or granular organic fertilizer. In fact, granular organic fertilizers are more dominant in terms of nutrients and storage. However, there are also more production procedures for granular organic fertilizers. The complete production process of granular organic fertilizer is compost fermentation – crushing – screening – batching – stirring – granulation – drying and cooling – packaging. This may seem complicated, but you can choose according to your needs. As a fertilizer equipment supplier with more than 20 years of experience, Shunxin has helped solve the fertilizer production problems of many customers in China and abroad.
Determine the production scale of your factory
Company size is one of the factors that affects output and cost profit. If your capital investment is larger, then your income will be larger. You can first confirm that tens of thousands of tons of fertilizer pellets are being produced each year. Usually, some fertilizer producers' production requirements will be around 10,000-100,000 tons.
Determine the organic fertilizer production equipment
When you have some organic fertilizer raw materials, you may not know how to choose the right production equipment. Or you may not know how to maximize your benefits. Starting your organic fertilizer production business is not an easy task. What you need to remember is that you should communicate with professionals to help your organic fertilizer production business. Your ingredients, your venue, and your budget will all affect your bottom line. Shunxin has professional consultants and engineers. If you have any questions, our professionals will give enthusiastic answers. We can even help you design the venue, cost, etc. So if you don't know how to get started, please email us!