Industrial production of organic manure method
Industrial composting is mainly used for large scale organic waste compost making plant. You can use the large capacity composting machine in big organic fertilizer plant and commercial composting factory. With the help of large-scale composter, you can get the compost fertilizer easily. If you have the largest fertilizer company in your country, SEEC huge scale composting machine can also meet your requirements. And we can give some professional fertilizer production suggestions for you. Except that, we not only can provide you different large-scale organic waste composting equipment for you, but also can give you different compost making methods for commercial fertilizer production.
How to produce organic manure in a large scale?
In order to get large quantity of compost fertilizer, you can choose different techniques of making commercial organic manure. In SEEC compost fertilizer machinery, we have two different methods to get compost fertilizer.
Dynamic composting
There is many dynamic composting equipment in our organic fertilizer production plant, such as, groove type compost turner, wheel type compost turner, forklift type compost turner, crawler type compost turner, moving type compost turner and chain plate type compost turner. In fact, most dynamic industrial composting machines belong to windrow turner. That means you need to build a fermentation tub, then put your organic fertilizer raw material inside. And these compost machines are turned regularly to ensure that all the composting materials spends some time in the warm, moist center of the pile where bacterial activity produces heat that encourages further breakdown. Next after 20-30 days, with the help of big compost machine, the moisture of organic fertilizer raw will drop to 30%-40%, and the temperature of compost doesn't get any hotter. At this time, you can put the fertilizer into the farmland.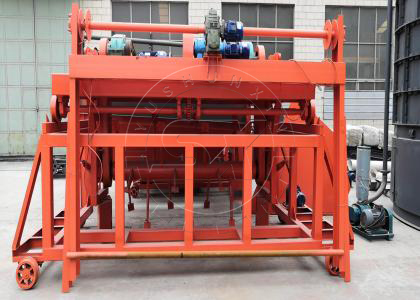 Groove Type Compost Machine
Model: SXFJC3000
Main Power: 18.5kw
Mobile Power: 1.5kw
Lift Power: 1.1kw
Working Speed:60m/h
Trench Dimensions WxH:3000x 1550mm
Application: Turning the compost on the groove
Static aerobic composting
Except industrial dynamic composting method. We still have static aerobic composting method for you to make organic fertilizer. That is also the easiest way to make organic fertilizer in large scale. In large compost system, you had better prepare some organic fertilizer raw material before. Then industrial composting machinery is the most important thing you need to have. In addition, static aerobic composting machine has another name-industrial fermentation tank. In the whole static aerobic compost system, you just need to put the organic fertilizer raw material inside with forklift. And turning on the switch. After 7-15days, then you can get fermented compost fertilizer.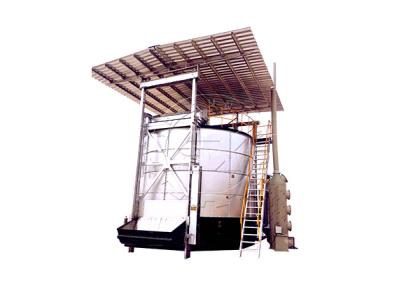 Groove Type Compost Machine
Model: SXFT-10
Heating Power: 4kw
Stirring Power: 11kw
Feeding Type: Conveyor
Dimensions:2400x 2400x6900mm
When to stop turning commercial compost windrow?
There is a method if the compost is finished. You can hold the fertilizer in your hand, and if there's no water dripping, and the compost has finger marks on it, you can't smell it, which means you've got the fermented compost fertilizer,
Top 3 large composters for sale
Commercial wheel type composting equipment for sale
In SEEC compost fertilizer machinery, wheel type compost making machine is the biggest compost fertilizer production equipment. Our commercial wheel type composting machine have the character of high degree of automation. Do you know the reason why our wheel type compost turner has high production capacity? Here are the reasons.
First, the compost machine's turning depth can be 1.5-3m. That means it can deal with a lot of compost raw material.
Second, wheel type compost production equipment has large turning span. The largest width can be 30m.
With these two characters, you can get organic compost fertilizer in a short time.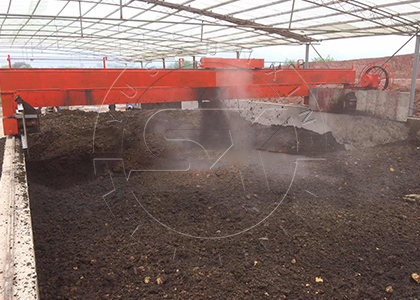 Wheel Type Industrial Composting Equipment
Turning depth: 1.5-3m
Turning span:≤3om
Advantages: Highly automatic, energy-saving.
Color: red(can be customized)
Application: composting organic wastes to fertilizer
Industrial crawler type compost turner for sale
Industrial crawler type compost turner is another large compost making machine. Most of our customer choose crawler type compost turning machine as their compost production machine. Because this composter not only have the character of fermenting, but also have the character of crushing. That means it can save your fermentation time, you can get a lot of compost fertilizer very quickly.
Huge chain plate composting machine for sale
Chain plate composting machine is the machine suitable for deep groove operation. You can put more organic fertilizer raw material inside. Meanwhile, you can get more organic compost fertilizer. In addition, under the condition of the capability of the equipment, the production scale can be expended and the value of the machine can be increased by adding the fermentation groove. Moreover, because this large-scale composting machinery adopt the structure of chain drive and rolling support. You can save more electricity and energy.
In a word, these are the three best-selling large capacity composting machine. You can choose the suitable one for your compost fertilizer plant.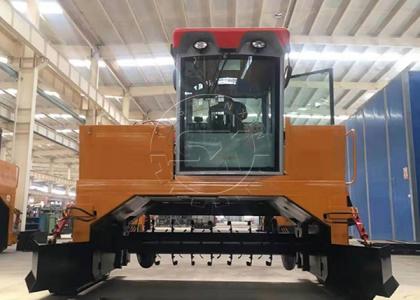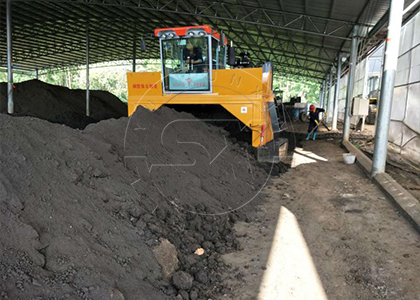 Industrial composting machines for making organic compost
In organic waste commercial management system, you also need other commercial fertilizing making equipment for making compost fertilizer. As mentioned above, you need to have an industrial composting equipment first. Except that, what other machines do you need?
Large scale solid-liquid separator machine. The reason for using the dehydrator is that there is too much water in the organic fertilizer raw material. Before you use industrial composting machine to make organic fertilizer, you had better reduce the water content of the ingredients to between 40% and 60%. Therefore, fertilizer dewatering machine should be used in your commercial organic fertilizer production process.
Commercial fertilizer crusher. Generally speaking, if you adopt the large-scale composting equipment without the character of crushing. And for getting powdery organic fertilizer, you need to use a commercial fertilizer crusher to crush the fermented block fertilizer. In our commercial fertilizer equipment plant, we provide high-quality fertilizer making machine for you.
All in all, if you want to get compost fertilizer. you need at least three industrial fertilizer making machines.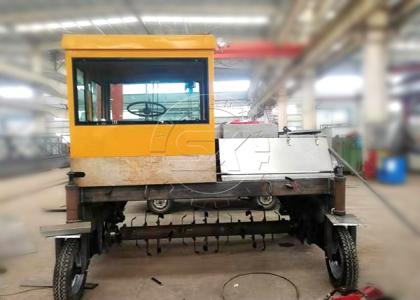 Moving Type Composting Equipment
Model: SXM-240
Compost Width: 2.6m
Compost Height: o.8-1.2m
Moving Speed: 4.5-5.5m/min(adjustable)
What are the benefits of organic compost fertilizer made by industrial composting machine?
If you look closely, you can find there are many commercial organic fertilizer suppliers. At the same time, many farmers buy organic compost fertilizer from them. Because there are many benefits in organic fertilizer.
First, all living organism require carbon, nitrogen, oxygen, hydrogen, and many other elements to survive. Any requirement that is not met will limit the growth, reproduction, and ultimate survival of the organism. Compost is focused on understand and meeting the needs of the organisms that are actually doing the composting. While composting occurs naturally, the process requires proper conditions to occur rapidly, minimize odor generation, and prevent nuisance problems. For forbidding these problem, industrial composting equipment will be your good helper.