How to Use Aerobic Technique to Make Organic Fertilizer
Your unprocessed livestock manure may have the following harms:
Bad smell, affecting life
Pollute groundwater resources and cause impacts to nearby residents
Polluted air, rivers, etc. have an impact on the environment
Carrying germs, causing diseases
For many livestock and poultry farmers, this is a very troubling problem. Are you looking for a way to dispose of this manure? Aerobic composting is the best way to dispose of your livestock manure. The manure after aerobic fermentation are like soil, which is a good raw material for making organic fertilizers. Of course, in the process of aerobic composting, a composter is required for turning, so as to speed up the contact between aerobic microorganisms and the air and shorten the composting cycle. We offer you turners suitable for different types of manure.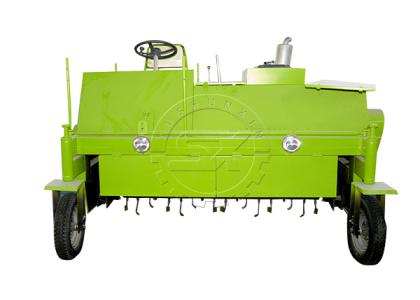 What Aerobic Composting Machines Does Shunxin Have?
Trench Compost Suitable for Large Farms
Trench composting needs to set up a trench before composting, you can determine the size of the trench according to different turning machines and the size of the farm. The advantage of trench composting is that it has a large processing capacity, a small footprint, and is less affected by the weather.
Groove type compost turner for sale
The trench machine mainly includes five parts: the walking trench body, the walking track, the power taking device, the turning part and the turning device.
The turning part lies in its turning teeth, the material is 16Mn, which is strong and durable. It has certain crushing and mixing functions for materials, which can not only improve the crushing efficiency, but also reduce the production cost. You should change the turning teeth 0.5-1 year one time.
The turning device is also called a transfer car, you can use  for multiple trenches.
The power taking device has a soft starter, and the impact load is low when starting.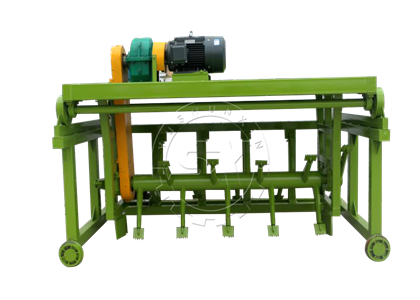 The groove type compost turner walks back and forth along the track laid on the trench. At the same time, the turning knife roller of the groove machine rotating at high speed will turn the materials in the trench to break and throw them backwards. You can choose 0.8m, 1.0m,1.2m, 1.5m, four turning depth according to your requirements. Our groove turning machine includes a total of control panel, groove changing device, electric cable winding wheel three major spare parts. In addition, If your raw materials are too low in humidity for turning conditions, our trench turners also has a water spray system.
Wheel type compost turner for sale
The wheel type compost turner has the largest throughput among all turners. It is suitable for large-scale farms and large-scale organic fertilizer production plants. It also needs to set up trench, usually the width of the trench starts from 8-10 meters and the depth can reach 1.5-3 meters. The middle of the wheel type compost turner adopts a chain transmission device to drive the middle turning disc to turn symmetrically. It can complete large-span turning work with low energy consumption. In addition, the compost machine adopts a hydraulic lifting system. The turning plate can be automatically raised and lowered to ensure that the equipment can be moved without obstacles.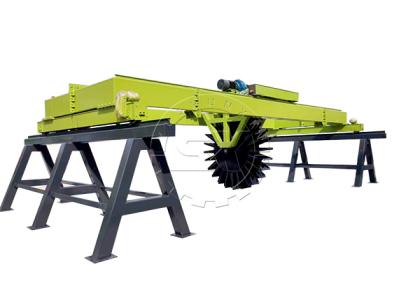 Windrow Compost Suitable for Small Farms
Window composting is to spread the materials into strips and stack them in the open air or under scaffolding. What are the characteristics of window composting? The characteristic of window composting is that the materials can be placed closer to the farmland, and no special workshop is required Compared with other composting methods, window composting has a relatively simple process and small capital investment, which is suitable for small farms in rural areas.
Moving type compost turner for sale
The moving type compost turner uses a four-wheel walking design. It can be driven by one person and can move forward, backward and turn. It is flexible and free. There is a separate cab on the moving type compost turner. There are windows to isolate it from the outside. So there is no need to worry that the operator will be polluted when turning. If your material is too dry to be thrown, the moving type compost turner is equipped with a water tank, and you can add water when throwing. In addition, the machine has a fan as the a cooling system, so you don't have to worry about the heat dissipation of the machine. Finally, the walking type compost turner uses a diesel engine as a power source, and the fuel consumption is about 8 liters per hour.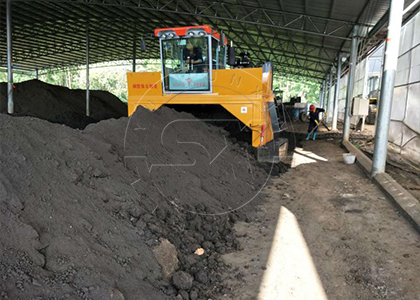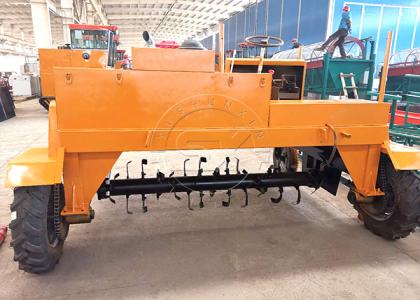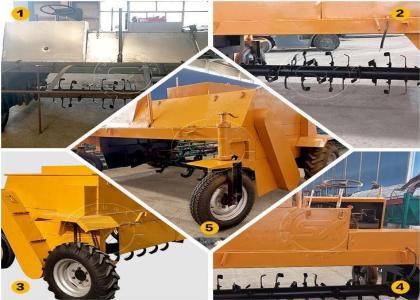 The moving type compost turner is a pile turning equipment that integrates the functions of walking, crushing, mixing and turning. It has the advantages of uniform mixing, thorough turning and long moving distance. It is widely suitable for fermentation of organic wastes such as livestock and poultry manure, sludge waste, organic fertilizer plants, mud waste plants, horticultural fields and straw sawdust.
Crawler type compost turner for sale
The crawler type compost turner belongs to the ground composting and fermentation mode. Firstly, it needs to stack the materials in long strips, then the crawler type compost turner slowly moves and flips on the long strip, regularly stirs and crushes the materials, and finally decomposes the organic matter under aerobic conditions. The crawler type compost turner can replace high-strength manual turning, which greatly saves a lot of time and labor, and creates a better aerobic environment for material fermentation. The crawler type compost turner uses a crawler-type walking design, which has a large contact area with the ground and will not slip. It is powered by a diesel engine with low energy consumption and stable performance. The equipment can automatically adjust the turning speed according to the looseness of the material pile. The operator only needs to control the walking direction of the equipment, which saves time and effort.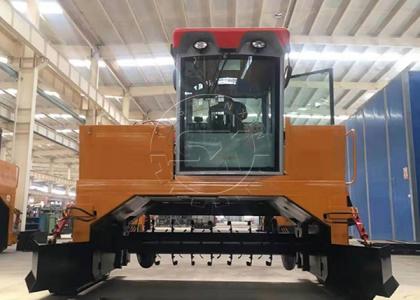 Organic Fertilizer Fermentation Tanks Suitable for Different Scales and Different Manures
If you want a more convenient way to ferment your manure, organic fertilizer fermentation tank can meet your requirements. You only need to put fresh manure into the organic fertilizer fermentation tank, no need to add accessories. And it occupies a small area, does not need to build a trench, and does not need to stack. Using closed fermentation, the harmful gases generated during the fermentation process will also be absorbed by the activated carbon box with attached equipment. So you don't have to worry about environmental pollution. Compared with other fermentation methods, the organic fertilizer fermenter has strong adaptability. You can use in all seasons. It is not affected by temperature, and can still be fermented as usual even in cold winter. You can choose our organic fertilizer fermentation tank in different models according to your requirements.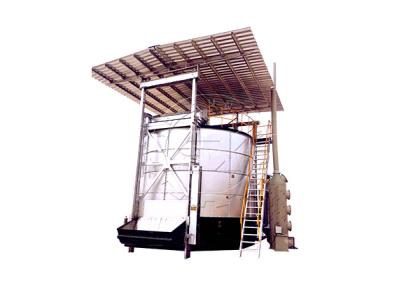 Each type of turner has its own unique advantages. Turning is a key point in aerobic composting, it is very important to choose a suitable turner. Our composting machines all use the aerobic composting fermentation mode. You can fully trust our equipment for quality and functionality. First of all, the materials of some core accessories are made by our imported machine. Secondly, we also continue to cooperate with advanced enterprises at home and abroad. In terms of service, we will have professionals to help you answer your doubts. Of course, in the process of using, if there is a problem, we will help you answer. In terms of price, compared to other countries, Chinese machines have more favorable prices. If you are interested in our turners, please contact us!