Why Is Fertilizer Made Into Granules in Organic Fertilizer Production?
The control of fertilizer particle size is very important for the storage and transportation of fertilizers. Good granulation makes the organic fertilizer less prone to agglomerate and has better transport performance.
Granular fertilizers can add some inorganic ingredients to the organic fertilizer production line to improve the fertilizer efficiency of organic fertilizers. Powdered fertilizers, however, can easily absorb moisture and agglomerate if inorganic ingredients are added, making them unsuitable for storage and transportation.
Fertilizer granulation improves the fertilization process. Granular fertilizers play the role of slow-release fertilizers that are effective and can sustain the nutrients needed by the crop over a long period of time.
Granular fertilizer is convenient to fertilize, and it is not easy to be scattered by the wind and run off with the rain.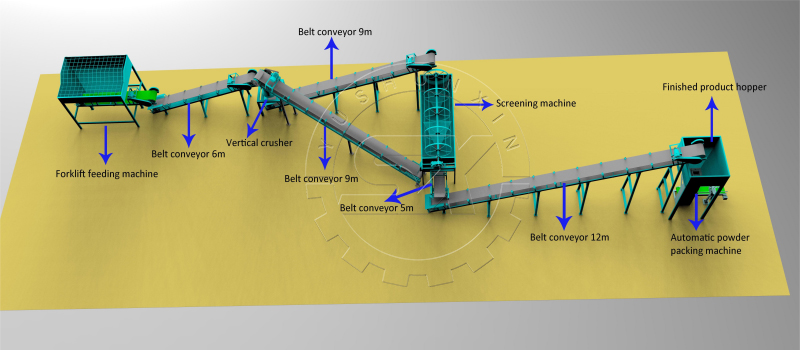 Shunxin Powder Granulation Equipment for Sale
Wet type powder granulation equipment for organic fertilizer
By adding water or other binders to your powder materials, the powdered particles are held together to agglomerate into larger particles. Wet granulation is one of the main methods of powder granulation, which is mainly suitable for the granulation of organic fertilizers. As a supplier of fertilizer production equipment, we provide you with three types of wet powder granulators.
Pan granulator for sale
The disc granulator is widely used for non-sticky materials in powder, material or small pieces. Livestock manure, such as sheep manure, chicken manure, cow manure, pig manure, etc, is fermented like soil. So it is suitable for the granulation of organic fertilizer by the disc granulator. We have 0.02-6t/h disc granulator to choose from. If you own a small fertilizer production plant, small disc granulators with diameters of 500mm and 600mm are suitable. It has a production capacity of about 0.02-0.1 t/h, which is sufficient for your daily production of powdered organic fertilizer pellets. The pellet mill is equipped with a water spray device above the disc, which can realize automatic water addition.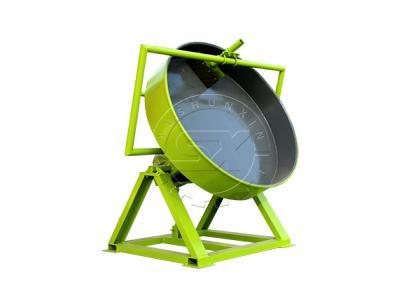 Pan Granulator
Model: SXYZ-6oo
Edge Height: 28omm
Rotary Speed: 33.5(r/min)
Capacity: 0.05-0.1 t/h
Total Power: o.75kw
Dimension: 800*7o0*950mm
Rotary drum granulator for sale
When you want to process large quantities of powdered raw materials, a drum granulator with a production capacity between 1-30t/h can meet your needs. The drum granulator is considered to be the granulator with the highest output. Not only that, the drum granulator has many unique features in material and design. The barrel of the drum granulator is an integrally formed spiral tube, and the thickness of the barrel is uniform. When granulating, given that the water-added material may stick to or corrode the walls of the cylinder, we added a rubber lining to the inside of the cylinder and compacted it with stainless steel beads.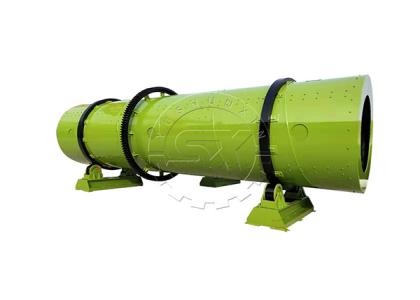 Rotary Drum Granulator
Model: SXZGZ-1240
Power: 5.5kw
Diameter: 1200mm
Installation Angel: 2°-5°
Rotary Speed: 17(r/min)
Capacity: 1-3t/h
 Stirring teeth granulator for sale
The stirring tooth granulator, also known as the new type organic fertilizer granulator, is a machine specially designed for granulating organic fertilizers. The stirring tooth granulator is also based on the principle of wet granulation, granulating powdery raw materials.  Because it is a special equipment for granulation of organic fertilizer, the new organic fertilizer granulator produces granules of high quality and good results compared to other granulators.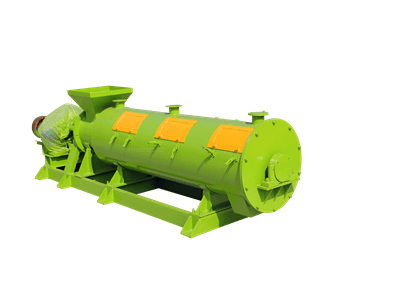 New Type Organie Fertilizer Gralator
Model: SXJZ-6oo
Installation Angle:2°-2.5°
Capacity: 1-1.5/h
Total Power: 37kw
Dimension: 4100*1600*115omm
Aplication: making organic pellet fertilizers
Dry granulator machine for powder fertilizer making
Compound fertilizer double roller granulator
If you want to make compound fertilizer from powder granules, it's a good idea to use a roller extrusion granulator.  The advantage of this granulation is that the raw material powder can be granulated directly without the addition of water or binder. And the finished pellets do not need to be dried and cooled. On the one hand, its production process is simple, and the powder materials can be directly made into granules. On the other hand, it is less expensive and eliminates the need for auxiliary equipment such as dryer coolers.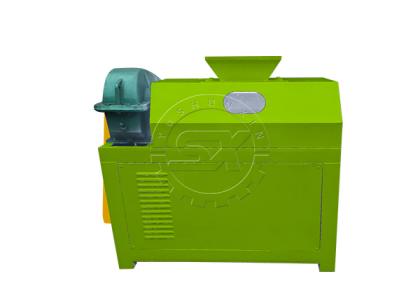 Double Roller Granulator
Model: SXJZ-1T
Power: 11-15kw
Granule Diameter: 3-10mm
Roller Sheet Size: 150*220mm
Dimension: 1450* 80o*1450mm
Color: green (can be customized)
Flat die extrusion granulator
Flat die pellet mills are mainly used for organic fertilizer granulation and feed granulation. You can granulate the fermented livestock manure, straw, sawdust, biogas residue, etc. by a flat die extrusion granulator. If you have a small farm, a flat die pelletizer is the best assistant for disposing of your farm waste. In addition, the flat die granulator is also suitable for granulation of feed. When you have a flat die pellet mill, you can not only make feed for your poultry, but also make organic fertilizer from your poultry manure. It achieves agricultural recycling.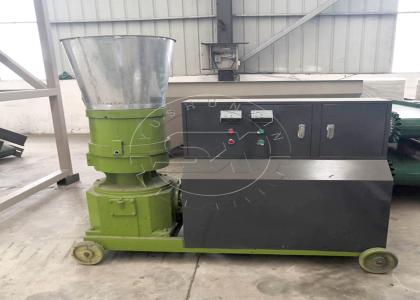 Flat Die Pellet Mill
Model: SXJZ-400
Capacity: 1.8-2.5t/h
Granulation rate: >95
Particle Temperature Rise: <30
Particle Diameter: 3-30mm
Power: 30kw
How do You Convert an Organic Fertilizer Powder Form Into a Pellet Form?
Stirring method
Our new organic fertilizer granulator is a granulator specially designed for organic fertilizers.It allows the powder particles to agglomerate, form balls, and densify through the stirring action of the stirring teeth and the external force of high-speed rotation. Finally, the final particle shape is formed. The new type organic fertilizer stirring tooth granulator can be used to granulate poultry manure such as cow manure, sheep manure, chicken manure, pig manure, etc. that have been fermented for you. You only need to put the fermented feces into the granulator, and you can create the shape of the granules you want.
Extrusion method
In fact, the most widely used dry powder granulation method is by extrusion. Because extrusion granulation is mainly suitable for the granulation of dry powder, that is, it can be directly granulated without adding water or binder. Shunxin has two types of extrusion granulators: double roller extrusion granulator and flat die extrusion granulator. Both granulators can directly granulate dry powders.Compared to other methods, the extrusion-type grinder is inexpensive, requires lower costs, and has a smaller footprint.
Rotary method
Another method of dry powder granulation is through rotation. The drum granulator is agglomerated by the high-speed rotation of the cylinder. The disc granulators aggregate into granules according to the rotational forces of the disc. Both of these granulators are granulated by external force.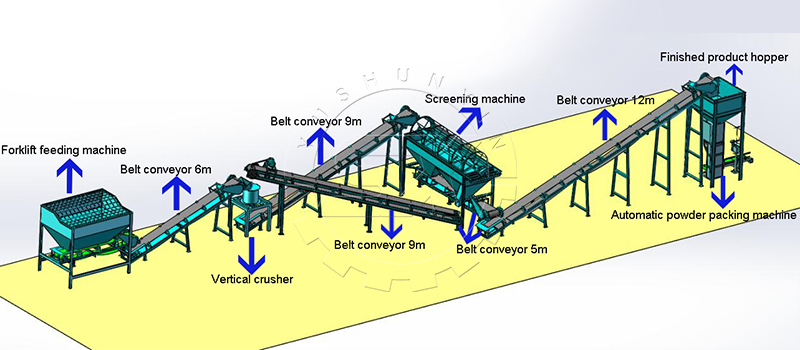 How to Choose the Right Powder Granules Making Machine for You?
According to your output
We have dry powder grinders for different outputs. If your daily processing capacity is relatively large, we have 1-30t/h rotary drum granulators and 1-6t/h new organic fertilizer granulators to choose from. In general, these two granulators are most commonly used in organic fertilizer production lines. If your daily output is relatively small, then disc granulator and extruder granulator are suitable choices.
According to your raw material
If your raw material is poultry manure such as cow manure, sheep manure, pig manure, chicken manure, etc., you can choose a new type of organic fertilizer granulator that specializes in the production of organic fertilizers. If your raw material is compound fertilizer powder, then disc granulator and extruder type granulator are suitable granulator choices. The disc granulator is considered to be the most widely used granulator, so it is also called the universal granulator. There are many other industrial granulation that can also use disc granulator, such as feed, food, chemical and other industries.
Choose a regular production factory
When choosing a ganulator, the first consideration is the quality and performance of the machine. Whether it can run for a long time and granulate high quality. Shunxin is a fertilizer machine production supplier with more than 20 years of production experience. Our machines have been sold all over the world for years. We have clients in Sri Lanka, Malaysia, Spain, India, Ghana and other countries. And, of course, we get a lot of foreign visitors as well. Shunxin welcomes you to visit our factory! In addition, we have been working with well-known companies such as Siemens, ABB, Schneider and others.