In the current quest for a high-quality life, there is a increasingly demand of organic food. For those who own livestock farms, it is a great business opportunity. Because there are rich nutrients in seemingly waste animal feces in farms. Such as nitrogen, phosphorus and potassium, etc elements. They are indispensable conditions for plant growth. Keep in mind that this is a good time to recycle your cow manure, sheep manure, chicken manure, etc. into organic manure pellets.
So how do you turn manure waste into high-quality fertiliser? How to set up an organic fertilizer plant? Of course it's not easy, you need professional fertilizer machines to help you. As a leading supplier of organic fertilizer equipment, our machines have help many customers to start organic fertilizer making business in many countries around the world. From site design to machine selection, Shunxin can help you build an ideal organic fertilizer production line.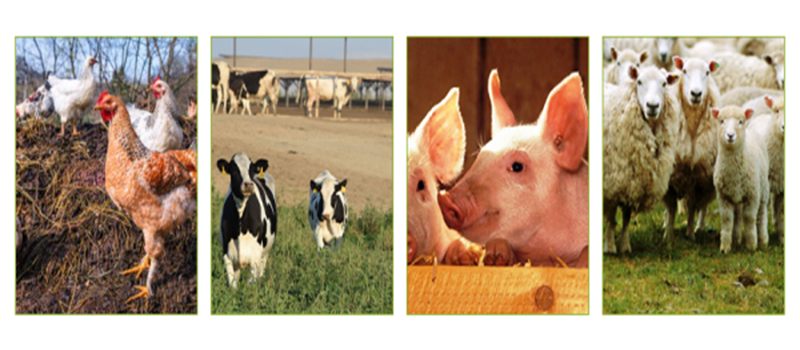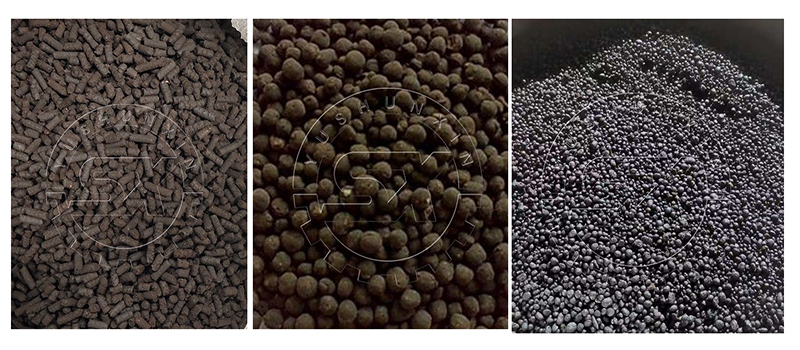 Contact us for your own organic fertilizer production line!
---
What Organic Fertilizer Production Line You Can Buy In SX?
For building an organic fertilizer making plant successfully, a suitable fertilizer making line is necessary. There are various systems for making fertilizer from organic waste for your choice.
Small Scale Organic Fertilizer Plan
For starters in fertilizer production, starting your own small organic fertilizer business is doable. This is something that can be easily done with a small investment. For small farms, which have 500 cows, 2,000 chickens, etc. A small scale organic fertilizer making line is enough to dispose of manure waste into quality fertilizer.
What equipment does a small organic fertilizer production plant need?
What you need to understand is that organic manure production is mainly divided into composting and production stages. Composting is a process of killing harmful substances in manure. But under normal circumstances, natural composting takes about three months. However, with windrow compost turner, you can turn organic waste into compost within 20 days. In the production stage, we recommend you use a disc granulator to process farm waste into organic fertilizer pellets. The machine has different outputs from 0.5-6 t/h. In addition, because of over 93% granulation rate and small footprint, it is the best-selling machine for producing organic fertilizer in 2022 .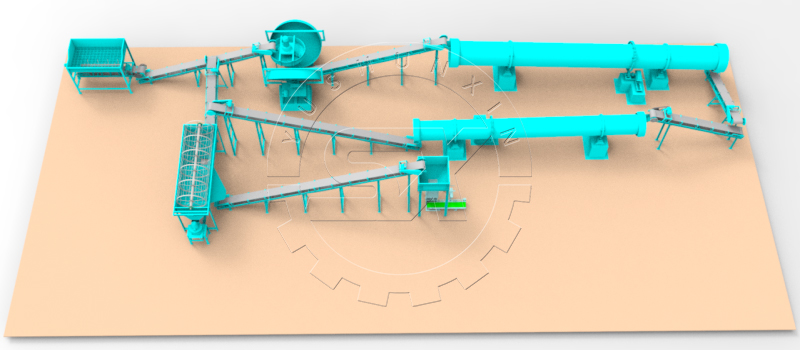 Large Scale Organic Fertilizer Plant
For larger food processing industries and farms, small organic fertilizer factories cannot meet the daily output of organic fertilizer raw materials. You need a complete organic fertilizer commercial production line solution. For those who are determined to gain benefits in the organic fertilizer industry, large-scale organic fertilizer manufacturing systems are often more likely to succeed. The first step you need to consider is, how many tons of annual production are you planning to build an organic fertilizer plant? This will determine your capital investment and the size of your plant. A good plan is always a successful start. In general, large-scale organic fertilizer making is for commercial purposes. So the capacity is more than 50,000 tons a year.
The following is the configuration of the organic fertilizer production line with an annual output of 50,000 tons designed for you
| | | | | | |
| --- | --- | --- | --- | --- | --- |
| Equipment | Model | Capacity (T/H) | Power (KW) | Dimension (MM) | Quantity |
| Crawler windrow composter | SXLDF-3000 | 1300-1500(m³/h) | 156 | | 1-2 |
| New type vertical crusher | SXLFL-1000 | 8-15 | 37 | 2150*1220*2700 | 1 |
| Disc mixer | SXPJ-3000 | 8-12 | 15 (motor) | 3000*3000*2000 | 1 |
| New type organic fertilizer pelletizer | SXJZ-1200 | 4-6 | 90 | 4900*2550*1800 | 2 |
| Rotary screening machine | SXGS-1870 | 10-15 | 5.5 | | 1 |
| Rotary drying machine | SXHG-1818 | 7-12 | | | 1 |
| Rotary cooling equipment | SXLQ-1818 | 7-12 | | | 1 |
| Rotary coating equipment | BM1600×6000 | 7-15 | 11 | 6000*1600*1600 | 1 |
| Automatic packaging scale | | | | | |
| Belt conveyor | | | | | |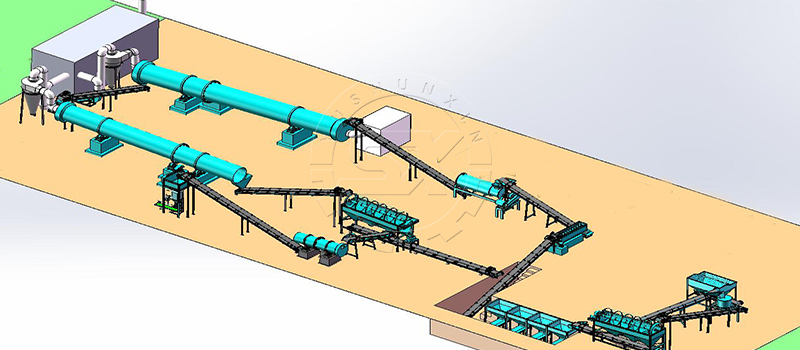 Cow Manure Fertilizer preparation
Cow manure organic fertilizer is one of the most commonly used organic fertilizer feedstocks by our customers in recent years. Although there are differences in regions and climates, there are cattle farms all over the world. This means that a cow manure organic fertiliser plant is a beneficial choice for your investment. In 2015, a customer from Indonesia ordered a disc granulator and drum dryer from us. After the machine arrived, he showed us the production of his cow manure organic fertilizer pellets. The fermented cow dung is directly put into the disc granulator, and the granules produced by the rotation of the disc directly fall on the belt conveyor, enter the dryer, and finally come out as finished cow dung organic fertilizer granules. Clearly, this is not a complete organic fertilizer line. Our engineers designed this simple production line due to the limited funds of our customers. Cow dung pellets can also be created eventually.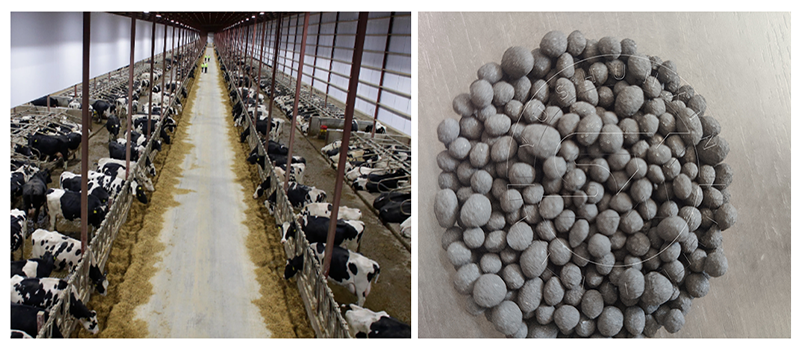 Chicken Manure Fertilizer Plant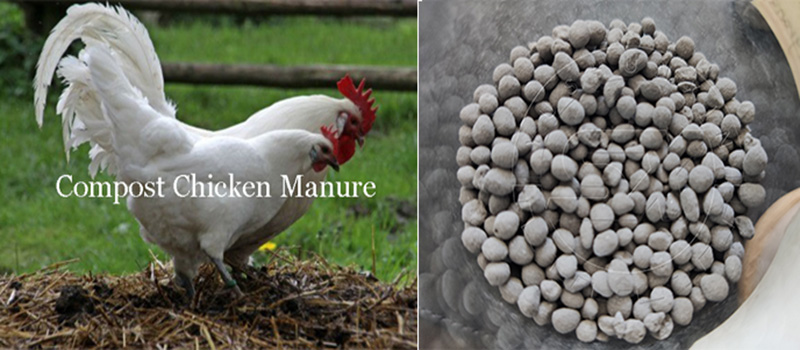 In June, we received an email from New Delhi, India. This buyer found our website on Google and became interested in our products. So he sent me an email to inquire about the chicken manure organic fertilizer production line. "I have more than 800 chickens and 50 cows. They can produce about 1 ton of manure per day. I want to process them into organic fertilizer. I need a complete production line…" Our buyer, who runs a chicken and cow farm, wants to build a fertilizer plant to process its chicken and cow manure. Our engineers designed for him a SXYZ-1000 disc granulator production line with a production capacity of 0.2-0.3 T/h. In addition to the disc granulator, it also includes batching machines, pulverizers, screening machines and packaging machines.
Sugar Waste Filter Cake Organic Fertilizer manufactuing
Among the raw materials for organic fertilizers, industrial waste is also one of the sources. During the year, a manager who runs a sugar mill contacted us by e-mail. He informed that its sugar mill produces 500 kg of sugar mill filter sludge and some cake residues every day. In his search for a solution to the waste, he came up with the idea of making organic fertilizer. After browsing our website on Google, our customized organic fertilizer production line plan for South African customers attracted him. Let us now share the line configuration for this customer.
SXFLF-600 New Type Vertical crusher:First, we have configured a crusher to pulverize large objects in the material.
SXYZ-1800 Disc Granulator: The disc granulator can convert powdery raw materials into granular organic fertilizer through humidification.
Single Shaft Mixer:The mixer will mix the prepared materials evenly.
Static Batching Machine:Considering that the nitrogen, phosphorus and potassium elements of the customer's raw materials cannot meet the standards for making organic fertilizers, we have configured a three-compartment batching machine. Make various ingredients meet international standards.

SXHG-0808 Rotary Dryer: The dryer reduces the moisture content of the finished granules to less than 10%.
Rotary Cooler: The cooler reduces the heat of the pellets so that they can be packed.
Packing Machine: automatic packing scale, packing granules into bags.
---
What is the fertilizer granulation line price?
Are you going to produce organic fertilizers? If yes, building an organic fertilizer production line is an investment that can pay off infinitely. The organic fertilizer business is mainly to convert poultry or livestock manure into organic fertilizer. The whole production line includes the following:
Raw material composting or composted material
Fertilizer crusher
Fertilizer mixer
Fertilizer screening machine
Fertilizer granulator
Drying and cooling machine
Coating machine
Packing machine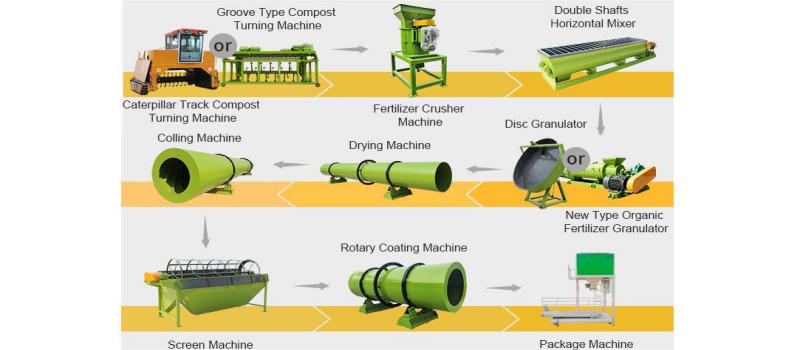 Choosing different machines and different output will affect your cost price. Factors that generally affect the price of a production line include production capacity, production scale, and product configuration. In terms of output, you can consider producing an annual output of 20,000 tons or 30,000 tons. Production lines with a capacity of 50,000 tons or higher. The price of the entire production line ranges from hundreds of thousands to hundreds of thousands of dollars. It is best if you have enough budget. Complete supporting facilities help you produce higher quality organic fertilizers.
When you start to produce organic fertilizer, the price of the production line is one of the things you need to pay attention to, because it will greatly affect your equipment usage time, product quality, maintenance cost, etc. From many perspectives, it is very important to choose good quality equipment. Among many of our customers, they have the same question? Why do you see that other suppliers' equipment is cheaper than our equipment? That's easy to say, because the material of the equipment is different, and the output is different. Most of Shunxin's equipment is made of dense steel. We have visited our factory on the spot. The factory has steel cutting machines for the production of key parts. No matter from any angle, we can guarantee the quality of our equipment.
---