NPK Industrial Manufacturing Plant
NPK fertilizer is a kind of complex blending fertilizer which mainly contains any of elements of Nitrogen, Phosphorus or and Potassium. Those three elements are primary nutrients that the plants and crops need. For lack of the above nutrients, optimum environment for plant growth can not be reached. Under such circumstance, SEEC has npk fertilizer production line for sale to keep abreast of the customers' requirements.
With the different techniques, there provides two npk fertilizer production systems for selection, one is the bulk blending fertilizer production line and the other is npk fertilizer granulating process. The former is to mix the N, NP or NPK fertilizer with other fertilizer like urea together by using batching machine, BB fertilizer mixer, coating machine and packer while the latter make fertilizer powder into pellets with a crucial process of granulation. Without doubts, we will provide those above with preferential price and high quality. And next, SEEC npk fertilizer production line is to be introduced.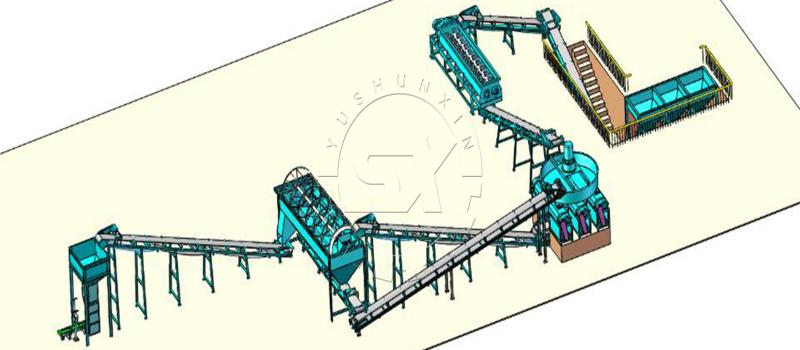 Available process on how to make npk fertilizer by using SEEC npk fertilizer making machinery
There are two ways to make npk fertilizer production through our machines, one for npk fertilizer granulating line and the other for BB fertilizer production system.
NPK fertilizer granulating line goes on the following steps
Crushing process: For the sake of the occasion that the npk fertilizer begins at the powder or finished powdery fertilizer, there needs to processing the materials into powder. As a case in point, the material will be grinded into powder caused by high speed rotary and continuous impact of the material itself and of the internal surface of the machine. When the powder reaches your requirements, it will flow out from the discharge outlet. Thus, as for this step, cage crusher as well as chain crusher are suggestions for you.
Mixing process: If the material is powder in essence, you can use the double shafts horizontal mixer or single shaft mixer after batching. And the main purpose is to make all kinds of powder evenly so as to confirm nutrients in a regular ratio when granulating.
Pelletizing process: With the dry granulation process, double roller extrusion pellet machine demands the water content of the material within 5% to 10%. It is in this way that the process will discharge without three wastes (waste gas, waste water and waste residue) because of its no need in cooling and drying. If you worship perfection, you can put polishing machine which can make all the pellets same not only in size but also in shape. If the water content is beyond the scope, disc granulator is another recommendation.
Screening process: If there are unqualified pellets, the filter of our rotary screen machine will alter them out and make them go back to granulator to pellet again through conveyor. `
Coating process: There is rotary coating machine for you to avoid block prevention during storage and transportation in the process of npk fertilizer production.
NPK fertilizer blending line entails such steps as batching, mixing and coating, if you put BB fertilizer mixer into use.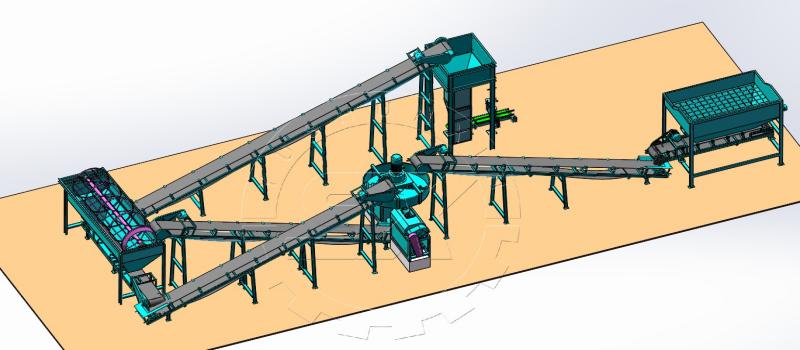 How does SEEC fertilizer production systems balance different npk fertilizer components technically?
NPK fertilizer production is based on fertilizer which is mainly comprised of three elements– N, P and K and it has a special percentage of them. Then, how to balance them? Our automatic batching machine will help you solve the problem. The machine includes two parts: feeder and electric belt conveyor. If you want to produce npk fertilizer in a ratio of 19 – 19 -19, you can feed the material into the hopper and then set the value through automatic control box and finally, you can get materials with the required composition. In this way, you can achieve a simpler production process than manual weighing.
New and cheap methods of producing better npk fertilizer
We have cheap machines for npk fertilizer granulation and adopt wet and dry granulation methods in the process of npk fertilizer pelletization.
For one thing, when you produce bulk blending fertilizer, BB fertilizer mixer can help you save the area and simplify the fertilizer production process. Namely, what you need to do is just to batch the finished fertilizer into the BB fertilizer mixing machine and coat the qualified pellets. That is to say, you can save the area and cost for granulator and have a fast production for npk fertilizer with such a machine.
For another, from the view of granulation process, we adopt the dry granulation steps and wet granulation method. As mentioned above, our double roller extrusion granulator produce fertilizer through extruder technology and dry granulation steps (water content in about 10%). In this way, fertilizer manufacturers need not to be cautious of pollution and relevant adhesive. As for wet granulation steps, both rotary barrel and pan granulator can be applied. The material whose water content ranges from 25% to 30% is to be processed by these two units. With small investment but high efficiency and large production capacity, rotary drum granulating machine is a better choice. Furthermore, disc granulator specializes in powder management and it has the ability to change all kinds of the powder into pellets perfectly.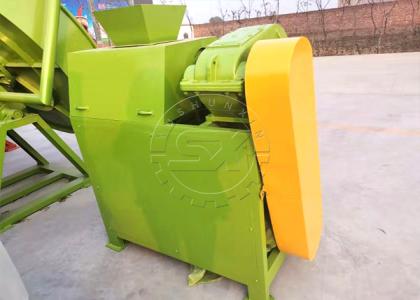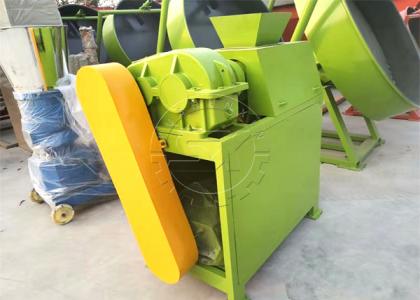 NPK calculation for fertilizer production
Fertilizer production requires seriously about the calculation about each kind of material and its moisture and so on.
At the beginning of fertiliser processing, producer batch your N,P,K fertilizer powders at proper ratio accurately. And here SEEC provides you fertilizer batching machine with high accuracy and working efficiency. It is suitable for you to batch your powdery materials with three or more hoppers.
Then, the most precise calculation about the granules can give for you by using our rotary screener. With slant angle and three different types of mesh size and three discharge holes, it can screen granules for three times, first for the smallest granular and powder, second for qualified and standard pellets and third for the biggest granules. Next, in case of meeting the fertilizer standards, we have rotary cooling and drying drum for you to remove the water of granules and reduce its high temperature.
At last, for large scale fertilizer production plant, there is ton packing machine for you. While for the small plant, single and/or double bucket packing scale are suitable for you.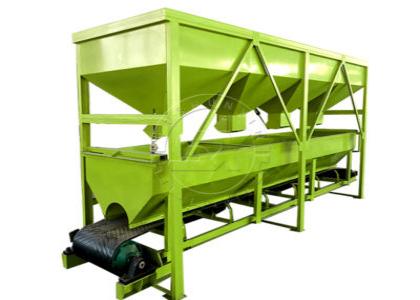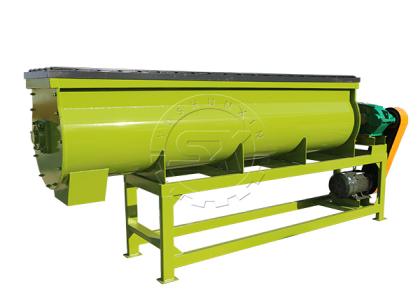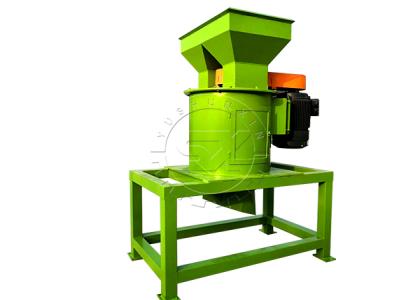 Proposals on business projects for npk fertilizer plant from SEEC machinery
Most of the countries have a direct control and management about the startup of its industries. You need to consider the following questions: Whether you can begin your fertilizer business in the country? Which area you are permitted to build your plant? What the environmental standard is? And have a research about whether the local fertilizer market is saturate?
If you have no exceptional capital but would like to establish a large scale NPK fertilizer plant, find investment so that your large fertilizer plant can work normally and warehouse as well as products can be proved.
Find the believable dealers and suppliers to cooperate. In order to reduce the trouble in the process of machine transportation and usage, select well reputable suppliers and dealers so that you have a stable marketing source and manure production process. SEEC machine making factory always acts on the principle of "quality at first" so you will benefit from us at different kinds of aspects if you choose us as your supplier.
After all, SEEC machinery is able to discuss the most applicable and detailed project with you for your fertilizer commerce. Whether you want to produce npk fertilizer in the form of powder or granular, we can do our utmost to serve you.
For your NPK fertilizer production, there are various high-quality fertilizer making machines in Tondga for your reference.
How to plan the cost of setting up npk fertilizer plant?
About site: When you consider the cost of looking a npk fertilizer plant, the proposal is to buy one if you plan to establish a small plant for long-term use with enough start-up capital. According to the words of one of our consumers, the reason is that leasing fee will increase about 10% of total every three years.
About machines: You must be not willing to buy a cheaper machine with no maintenance and warranty provisions. SEEC heavy industry provides you the superior machines with favorable price and the first class after-sale services. We will give suggestions about the machine in accordance with your reality so as to help you avoid loss, and the price is bound to satisfying both parts.
About marketing: If you have a professional and experienced financial team, you will bring multiple results even with half work. In addition, use methods to search for potential customers.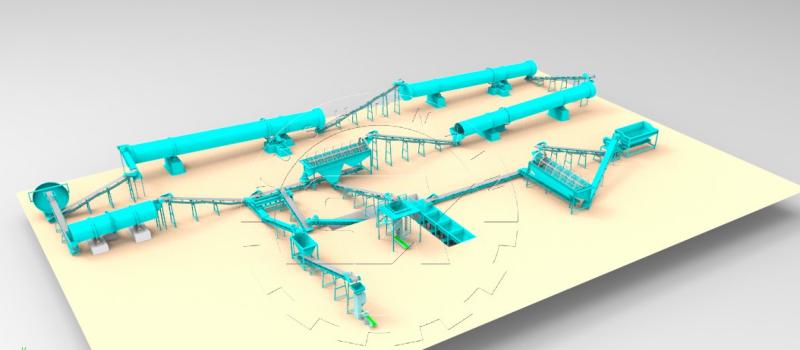 SEEC, the best supplier for both big and mini npk fertilizer plant
Different npk fertilizer manufacturer has different needs for production capacity. There are two main requirements: large scale and small scale production lines.
Big npk producers: As for the big one, we will provide you with the larger production capacity machines and equip all of them as much as possible in accordance with your requirements. For example, we can provide you with horizontal mixing machines which capacity range about 2 ton to about 15 ton per hour.
Small scale NPK compound fertilizer factory: As far as small plants are concerned, there is fewer machines needed than that of complete big npk fertilizer production line, thus, according to the material you need to deal with, we will give proposals for the required machines. And we even offer the disc granulating machine with its capacity of 0.02t per hour for laboratory.
At all events, we will provide you the most appropriate machines for your production and your plant regardless of plant dimensions. If the machine does not work or work abnormally, maintenance and warranty will come into effect.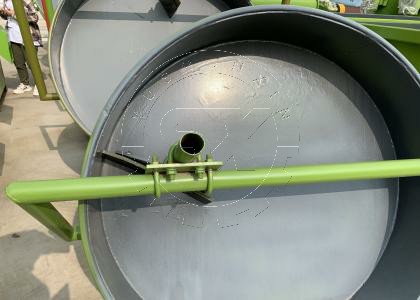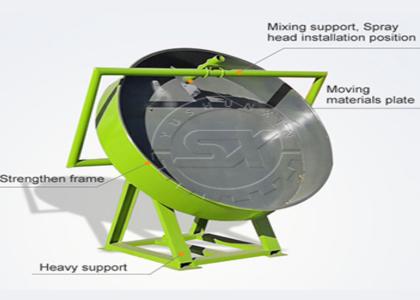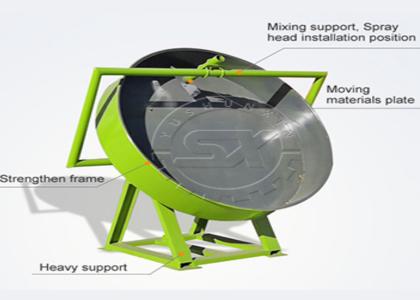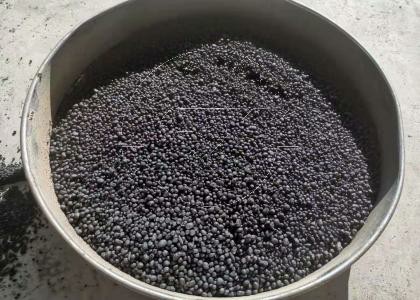 Common desirable details about SEEC npk fertilizer production tools
What roles SEEC npk fertilizer production tools play in your npk making plant?
SEEC fertilizer machine making company has the following major commercial npk fertilizer equipment in stock:
Commercial granulating machines: the granulator is to turn powder to pellets and we have the following equipment for sale:
Double roller extruder which produces pellets through mechanical extrusion.
Pan granulator which through rotary so that he longer time you put the material into the machine, the bigger the pellets are, and vice versa.
Rotary drum granulating machine which through high speed rotary and impact.
Commercial mixing machines: the mixer is to mix the materials together and we have machines like single or double shaft mixer and BB fertilizer mixer for sale. The former uses for mixing powder while the latter mainly uses for pellets.
Commercial crushing machines: the crusher is to grind materials into powder and cage crusher, chain crusher, semi-wet crusher, urea crusher and straw crusher are for sale. Among them, chain crusher is suitable for crushing reverting material and semi-wet material crusher mainly uses for the crushing of material with high moisture for small scale npk complex fertilizer production line.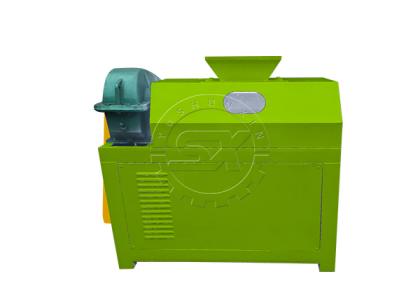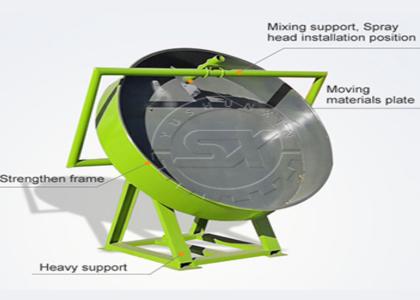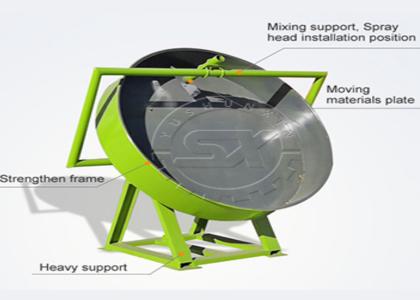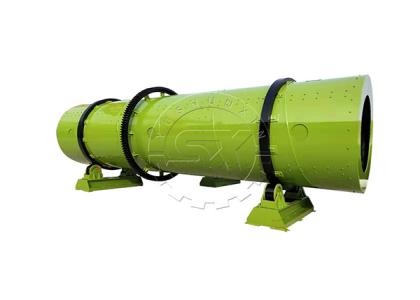 Industrial fertilizer machine npk plant
With the boosting of npk fertilizer, there comes the spring of the npk fertilizer industry for making relevant machines. However, among so many suppliers, some of them buy some inferior or used industrial accessories to try to assemble them together to be a finished fertilizer production device. In this way, customers will suffer a great deal of loss. On the contrary, we are dependable partner since SEEC machinery experts in fertilizer machine making for more than 30 years and we have our own machining center and laser cutting machines so that we process the industrial spare parts by ourselves and when you have a visit of our factory, our workmates will showcase them for you.
If you do not know how to start your NPK fertilizer granules making plant, contact us and we will provide you professional suggestions!
First-rated services you can benefit from SEEC fertilizer machine making company
NPK fertilizer production line space needed: If you are a new comer in the field of fertilizer production and have no minds about the area you need for a npk fertilizer production line. Proposals will be given to you referring to our production line as well as your intention and plan. If there need adjustments about the line, we can customize for you.
NPK fertilizer manufacturing process flow diagram: In accordance with your needs and plant scale, we will provide you with the most proper line and machines for your fertilizer production.
NPK production plant layout: As for the plant layout, if there is no expert to install the machine, we are able to send our engineers to help solve the assemblance problem. Additionally, if you ask for training your workers, it is also feasible.
Sample of npk fertilizer: Here goes the pictures/video for the sample of high qualified fertilizer produced by our machines.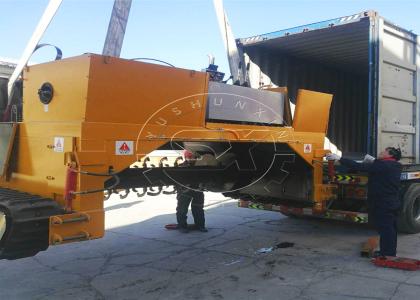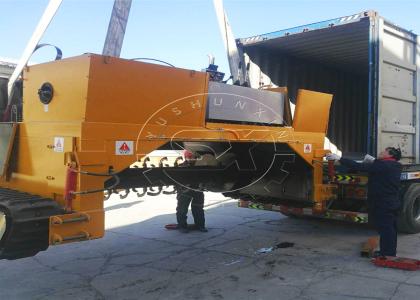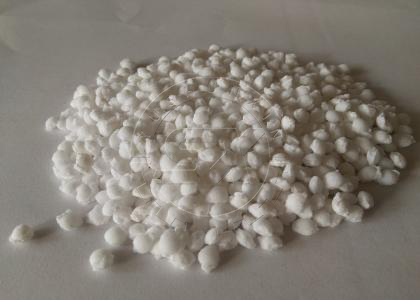 What are the raw materials for production of npk fertilizer?
The raw materials for production of npk fertilizers involves two levels of fertilizers, the primary fertilizer and the secondary fertilizer. The first level is common seen fertilizers which are extracted from the N, P and K. Since different plants are scarce of different kinds of nutrients, the component of Nitrogen, Phosphorus and Potassium varies. The secondary level takes the nutrients of Ca and S as representations. Mixing them into nitrogen fertilizer, phosphorus fertilizer and/or potassium fertilizer when use the cage mixer, there will achieve a more fast-effective result.
Top 3 different types of npk fertilizers that most fertilizer plant manufacturers prefer to produce by using SEEC fertilizer production equipment
Dap npk fertilizer
DAP, shortened from diammonium phosphate, makes up by the fertilizer of Nitrogen as well as Phosphorus and is one of the npk fertilizers. It is a fast-effective fertilizer with high concentration so that adapts to various of crops and soil. Thus, the dap npk fertilizer needs a complete precise percentage of the two elements. In this way, our automatic batching machine rise in response to the market requirements. With this machine, you can save both labor and time and will never apprehend dap fertilizer ratio.
SEEC machines can help you mix these two fertilizers and pelletize them. Have interests?
Organic npk fertilizer
As we know, organic fertilizer has the features of slow-release efficiency but it can benefit soil and plants in a long term while npk fertilizer is characteristic of fast efficacy but it will harm to plant roots and lose existing nutrients with its long-time usage. Therefore, mixing the organic fertilizer and npk fertilizer can create optimum environment for the growing crops. Here goes the BB fertilizer mixer for your convenient fertilizer production from powder to pellet directly.
Bio npk fertilizer
Bio npk fertilizer products are made from fertilizers containing nitrogen, phosphorus or/and potassium and bacterial fertilizer. The recommended machine for its manufacturing process is same to organic npk fertilizer plant.
Why more and more people focus on npk fertilizers production?
In recent years, with the large growing population, more and more countries concentrate their eyes on agriculture, especially environmentally friendly agriculture. Taking Vietnam as an example, the agriculture is one of the supporters for the economy of Vietnam. However, the country has long and narrow land from the view of the satellite. The phenomenon, a large population but small land unit, makes its government decision for enhancing the fertilizer industry. Under that circumstance, with NPK fertilizer a fast efficiency on crop production as well as yield in a growth period, it is popular with users and benefits customers to a large extent.
SEEC fertilizer machinery is a professional manager in the field of making fertilizer tools and is in authority in China. We provide not only npk fertilizer water soluble production line, but also organic fertilizer making machines, ranging from composting, mixing, grinding machine to granulating, screening, cooling, drying and packing equipment. If you have fertilizer machine problems, contact us and we will try our best to give you the best service and answers.