NPK fertilizer is a kind of complex blending fertilizer which mainly contains two or more elements of Nitrogen, Phosphorus or Potassium, etc. Those three elements are primary nutrients that the plants and crops need. For lack of the above nutrients, an optimum environment for plant growth cannot be reached. Under such circumstances, most businesses are prone to invest in preparing NPK fertilizer which can supply them to crops in a targeted way. Here, SEEC has professional NPK fertilizer production line to help you make NPK fertilizer making quickly and easily.
With the different techniques, there provides two npk fertilizer production systems for selection, one is the bulk blending fertilizer production line and the other is npk fertilizer granulating process. The former is to mix the granular N, P ,K fertilizers together by using batching machine, BB fertilizer mixer and packer while the latter make chemical fertilizer powder into pellets with a crucial process of granulation. Without doubt, we will provide you with equipment for those above NPK production systems with preferential price and high quality.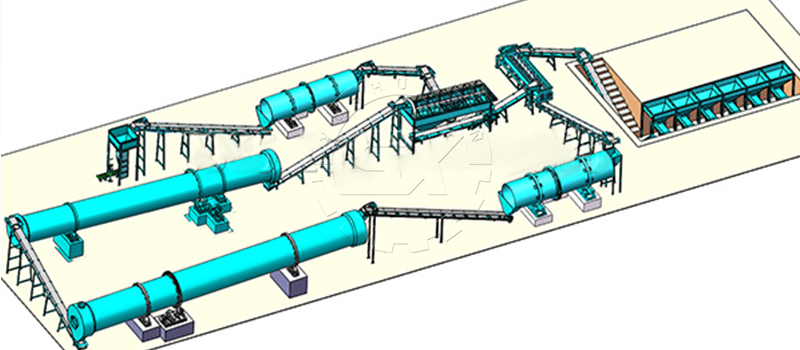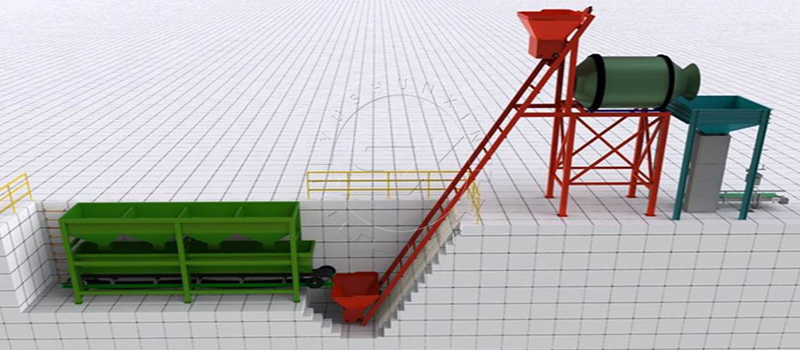 ---
What methods can be used in NPK fertilizer production?
In general, you can use prepare NPK fertilizer by three methods: dry granulation method, wet granulation method or using BB fertilizer mixer.
For one thing, dry granulation method and wet granulation method are both used to make NPK fertilizer granules from chemical powder. Dry granulation method mainly relies on the physical force – the extrusion force between two rollers to granulate NPK powder (water content in about 10%). In this way, fertilizer manufacturers need not to be cautious of pollution and relevant adhesive. As for wet granulation, the material's water content ranges from 25% to 30%. Under the action of liquid, the powder will combine with each other to form into NPK fertilizer pellets quickly.
For another, you can use chemical pellets as material to produce bulk blending fertilizer directly. What you need to do is just to feed materials according to the required ratio and mix them evenly. This method can help you save the area and cost for NPK fertilizer manufacturing and have a fast production for NPK fertilizer.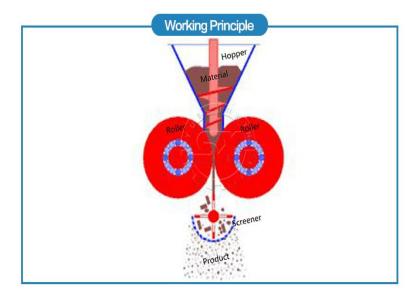 ---
How to make NPK fertilizer by using SEEC NPK fertilizer making machinery?
There are two ways to make NPK fertilizer production through our machines, one for NPK fertilizer granulating line and the other for BB fertilizer production system.
NPK fertilizer granulating line goes on the following steps
Crushing process
For the sake of the occasion that using powder or powder + granule chemical materials to produce NPK fertilizer, there needs to processing the materials with crusher equipment. Its purpose is to eliminate large particles in materials to make higher quality NPK fertilizer pellets. Thus, as for this step, cage crusher as well as chain crusher are the ideal choice for you.
Mixing process
After crushing NPK materials into finer powder, you can use the double shafts horizontal mixer or single shaft mixer after batching. It can mix all kinds of NPK powder evenly so as to confirm the nutrients in a regular ratio when granulating.
Granulation process
If you want to granulate NPK economically, we recommend you choose double roller extrusion pellet machine. This granulator adopts dry granulation method and requires the water content of feeding material within 5%-10%. In this way, there is no need for cooling and drying. Provided you worship more rounded NPK granule manufacturing, you can buy a polishing machine. But if the water content is beyond 20%, disc granulator and rotary drum pelletizer are better recommendations.
Screening process
If there are unqualified pellets, the filter of our rotary screen machine will alter them out and make them go back to granulator to pellet again through conveyor. `
Coating process:
There is rotary coating machine for you to avoid sticking during storage and transportation.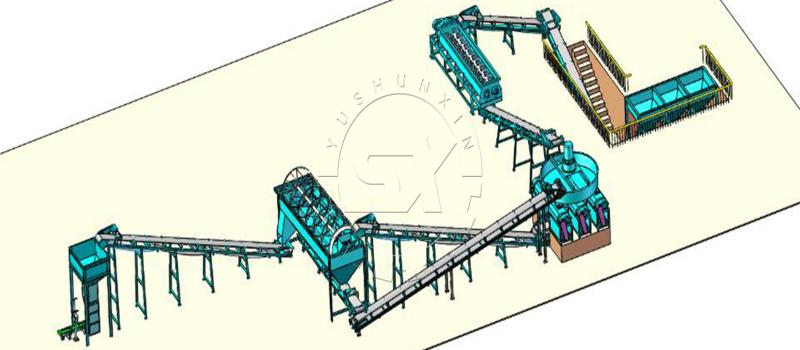 BB fertilizer production line design
BB fertilizer production line contains steps as batching, mixing and packaging, then you can turn N, P, K pellets into fertilizer you need.
Batching chemical pellet materials in required proportations
NPK fertilizer production is based on fertilizer which is mainly comprised of three elements– N, P and K and it has a special percentage of them. Then, how to balance them? Our automatic batching machine will help you solve the problem. The machine includes two parts: feeder and electric belt conveyor. If you want to produce npk fertilizer in a ratio of 19 – 19 -19, you can feed the material into the hopper and then set the value through automatic control box and finally, you can get materials with the required composition. In this way, you can achieve a simpler production process than manual weighing.
Mixing various materials evenly
Next, the most important step – mixing various materials evenly. BB fertilizer mixer has special internal screw mechanism and unique three-dimensional structure. It mainly utilizes the forward and reverse rotation to finish material blending and discharging . When the BB fertilizer mixer rotates clockwisely, the internal fertilizer materials are continuously picked up and then roll and drop because of gravity. During this process, various chemical pellets will be mixed evenly. Then making the machine rotate counterclockwisely discharge the bulk blending fertilizer products.
Packaging finished BB fertilizer
Finally, packaging finished BB fertilizer into bags. You can choose to pack your fertilizer into 10 kg/bag, 25 kg/bag, 50kg/bag, etc. This is beneficial for selling your fertilizer to customers with different volume requirements in a targeted way. Here, we can provide you with automatic packaging equipment.
---
Why NPK granulation line can produce high quality NPK fertilizer?
Fertilizer production requires seriously about the batching, sieving and moisture control.
At the beginning of fertiliser processing, producer batch your N,P,K fertilizer powders at proper ratio accurately. And here SEEC provides you with fertilizer batching machine with high accuracy and working efficiency. It is suitable for you to batch your powdery materials with three or more hoppers.
Then, the most precise sorting of the granules by using our rotary screener. With slant angle and three different types of mesh size and three discharge holes, it can screen granules for three times, first for the smallest granular and powder, second for qualified and standard pellets and third for the biggest granules.
Next, in case of meeting the fertilizer standards, we have rotary cooling and drying machines for you to remove the excessive moisture of granules and reduce resulting high temperature.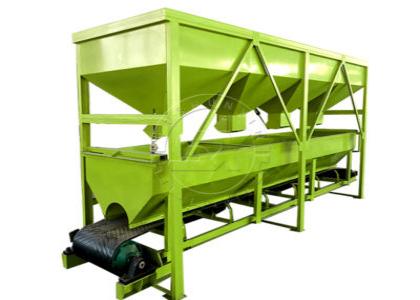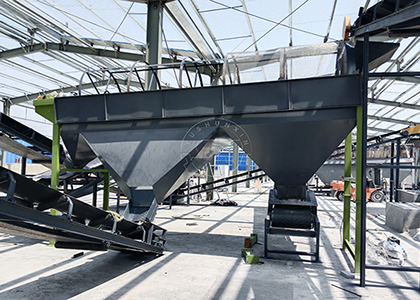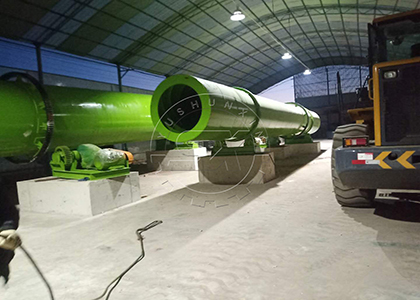 ---
How to choose a suitable granulator for your NPK granulation plant?
As mentioned above, you choose a suitable NPK fertilizer pelletizer according to the granulation method you want to use. Double roller granulator for dry granulation method while disc granulator and rotary drum pellet equipment for wet granulation method. In addition, you can consider the capacity of your NPK fertilizer granulation project, small scale or large scale ?
Pan disc granulator and double roller pelletizer for small scale NPK fertilizer granulation plant
When you plan to produce NPK pellets in a small scale, you can use our pan granulator or double roller pelletizer. The former can fully meet your needs to make below 6 tons of NPK granules per hour. And we even offer the disc granulating machine with its capacity of 0.02 t/h for laboratory. The latter has an output of 1-3 t/h. But you can use two or more double roller granulators simultaneously to enlarge the production scale. And because of dry granulation method employment, it can save the money on drying and cooling.
Rotary drum granulation equipment for making NPK pellets in a large scale
However, for large scale commercial NPK fertilizer granulation plant setup, we recommend you choose a larger production capacity granulator. Because large capacity usually means you can produce NPK fertilizer pellets more quickly. So the best choice for large scale NPK compound fertilizer granulation is rotary drum granulator, which has a capacity of 1-30 t/h. Moreover, we design rubber lining for it, so it can withstand the erosion of large scale chemical materials processing.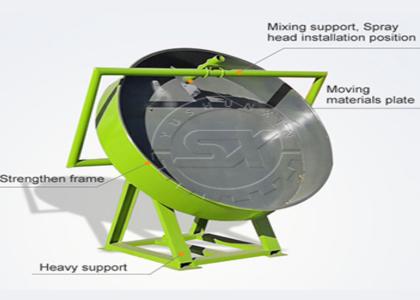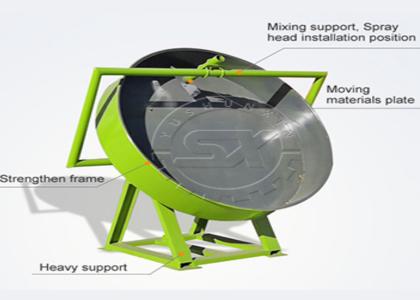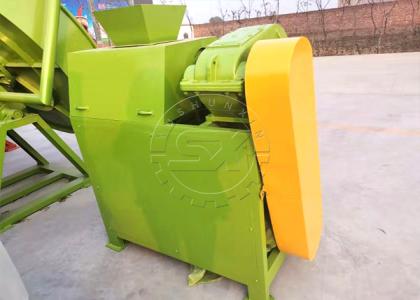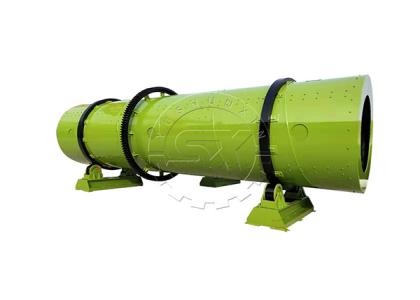 ---
How to plan the cost of setting up npk fertilizer plant?
About site: When you consider the cost of looking a npk fertilizer plant, the proposal is to buy one if you plan to establish a small plant for long-term use with enough start-up capital. According to the words of one of our consumers, the reason is that leasing fee will increase about 10% of total every three years.
About machines: You must be not willing to buy a cheaper machine with no maintenance and warranty provisions. SEEC heavy industry provides you the superior machines with favorable price and the first class after-sale services. We will give suggestions about the machine in accordance with your reality so as to help you avoid loss, and the price is bound to satisfying both parts.
About marketing: If you have a professional and experienced financial team, you will bring multiple results even with half work. In addition, use methods to search for potential customers.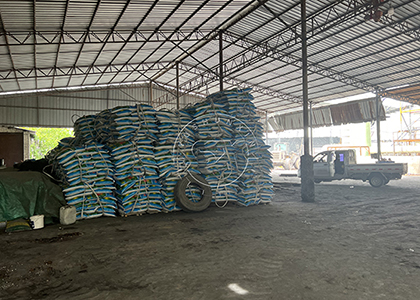 ---
First-rated services you can benefit from SEEC fertilizer machine making company
During the trading process, we can provide you the following services:
NPK fertilizer production line space needed: If you are a new comer in the field of fertilizer production and have no minds about the area you need for a npk fertilizer production line. Proposals will be given to you referring to our production line as well as your intention and plan. If there need adjustments about the line, we can customize for you.
NPK fertilizer manufacturing process flow diagram: In accordance with your needs and plant scale, we will provide you with the most proper line and machines for your fertilizer production.
NPK production plant layout: As for the plant layout, if there is no expert to install the machine, we are able to send our engineers to help solve the assemblance problem. Additionally, if you ask for training your workers, it is also feasible.
Sample of NPK fertilizer: We also can provide the pictures/video for the sample of high qualified fertilizer produced by our machines.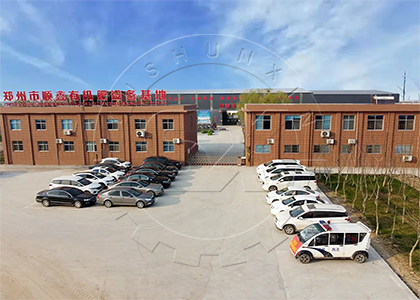 ---
other things about NPK fertilizer production line
---