Studies have proven that the economic and ecological benefits of organic fertilizer production lines are far greater than those of ordinary chemical fertilizer plants.And for organic fertilizer producers who want to get more benefits from it, start a large scale organic fertilizer production line is an ideal option. In this process, there are a lot of issues to consider. Such as how to build a large organic fertilizer plant, how much money to invest, etc. But SX can offer you the best solutions. As a fertilizer equipment supplier with 17 years of experience, Shunxin has a professional fertilizer equipment team composed of experts, professors and senior engineers. In addition, we are dedicated to the research and development, manufacture and promotion of organic fertilizer and compound fertilizer equipment. In this article, we will introduce our best selling large organic fertilizer lines and how to start your commercial organic fertilizer production.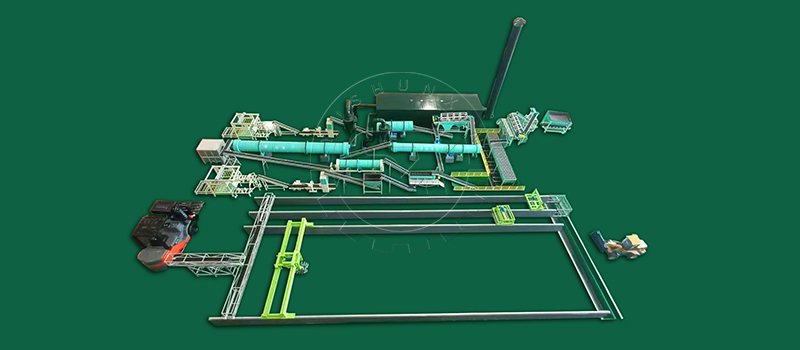 Contact us for your own organic fertilizer production line!
---
What Raw Materials are Available for Organic Fertilizer Production?
Animal Manure
Both poultry manure and livestock manure are excellent choice for the production of organic fertilizers. Such as manure from breeding factories and farms, fecal sludge from fish farming, etc. Of course, the most common ones are the feces of chickens, cattle, sheep, pigs, etc. Because they are rich in nitrogen, phosphorous, potassium,etc
Agricultural waste
In China, many rural farmers often dispose of this agricultural waste by burning straw. In fact, not only is this not allowed, but it would cause serious damage to the environment. Many agricultural wastes, such as straw, bean dregs, cotton dregs, etc., can be turned into organic fertilizers by machines. You can use these agricultural wastes as auxiliary materials for manure composting.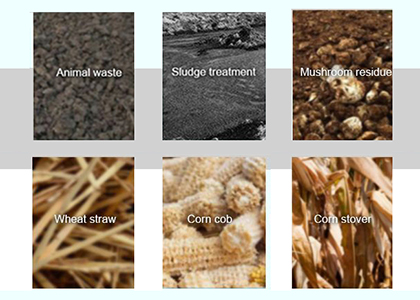 Industrial waste
Improper discharge of industrial waste such as filter sludge from sugar factories, wine residues, and cassava residues can result in water pollution or seriously affect nearby residents. Many sugar factories may not pay attention to this waste, actuallt it can be recycled into organic fertilizer. It can be a by-product of industrial business.
Urban domestic waste
Kitchen waste, domestic waste and urban fallen leaves can all be composted into organic fertilizers.
---
How to Start a Large Scale Organic Fertilizer Production Business?
Large-scale organic fertilizer production can be done through two parts: the composting part and the production part.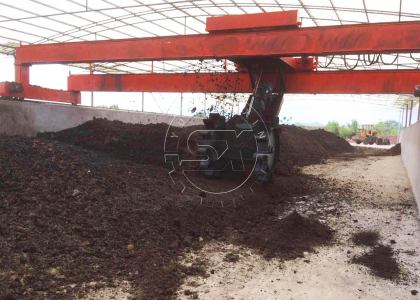 Compost Part
For organic fertilizer making, composting machine is necessary. For large-scale organic fertilizer production, it is best to choose a wheel type turner for the composting part. The reason for choosing the wheel type compost turner is large capacity. It can meet the output required for large-scale organic fertilizer production. Because the maximum turning span of machine can reach 30 meters, and the deepest turning depth can reach 3 meters. The maximum turning capacity is 30t/h. In other words, if you want to process a million tons of organic fertilizer raw material a day, that's fine.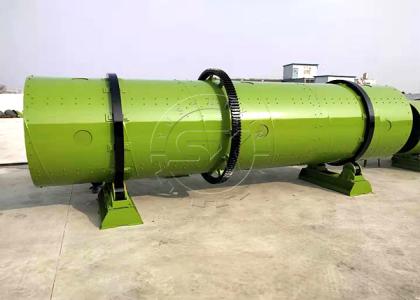 Production Part
Then you process composted organic materials by fertilizer granulation line. The production part consists of a belt conveyor, crusher, mixer, dryer, cooler and packing machine. In general, the production capacity of a large scale organic fertilizer production line is above 10 t/h, and the production capacity mainly depends on the granulation capacity of the granulator. A large scale organic fertilizer production line often need a high output granulator. The rotary drum granulator is the most suitable choice.
---
What Kinds of Mass Organic Fertilizer Production Lines can Shunxin offer you?
10 t/h Powdered Organic Fertilizer Production Line
Compared with granular organic fertilizers, powder organic fertilizer production line requires less investment. The key lies in the gap between the equipment. The powder organic fertilizer production equipment does not need a granulator. In general, you only needs to simply crush, screen, and pack your composted material.
50,000 Tons of New Organic Fertilizer Production Line
The new organic fertilizer granulator is specially designed for organic fertilizer production. The SXJZ-1500 granulator can provide 6-8 t/h production capacity. If your goal is to produce 50,000 tons of organic fertilizer granules per year, then the organic fertilizer granulator is the most suitable. It has a granulation rate of more than 90 percent, which is not only a high establishment rate, but also a good quality of the granules.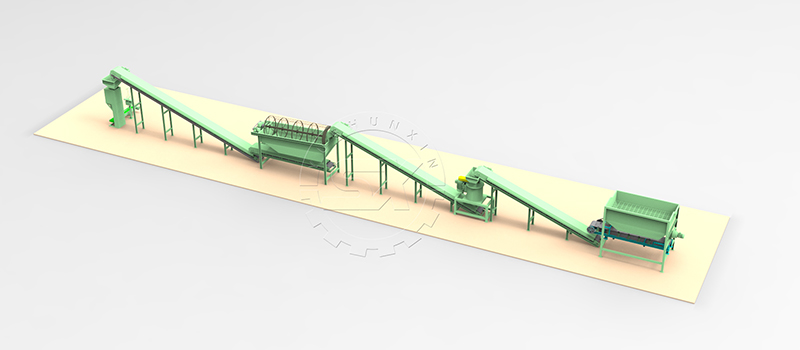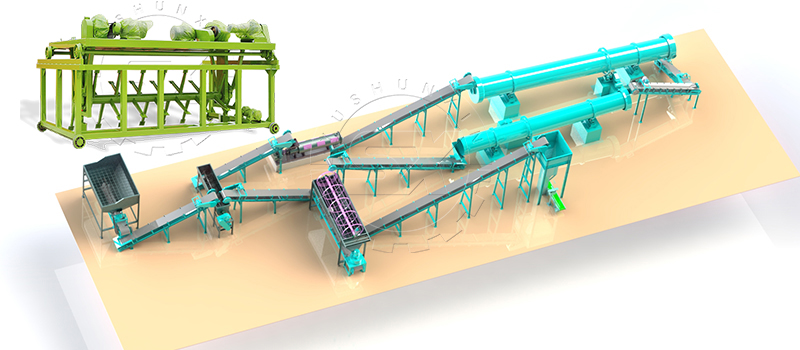 200,000 Chicken Manure Treatment Production Line
Last year, a farmer with 200,000 chickens contacted us by email, looking for a chicken manure organic fertilizer production line. Considering our client's large amount of chicken manure, we designed a 50 t/d drum granulator line for him. Assuming that the modified production line runs for 8 hours a day, the production line needs to produce at least 7 tons granules per hour. After comprehensive consideration, we believe that the drum granulator is the most suitable choice. SXZGZ-1870 is a granulator with a production capacity of 5-8 t per hour. So it can fully meet the production capacity of 50 t/d.
Double Disc Organic Fertilizer Granulation Production Line
In general, there are not many large scale organic fertiliser plants that use a disc granulator. This is due to the limitation of the maximum capacity of the disc granulator. However, it is possible to configure two disc granulators on a single line to meet the needs of mass production.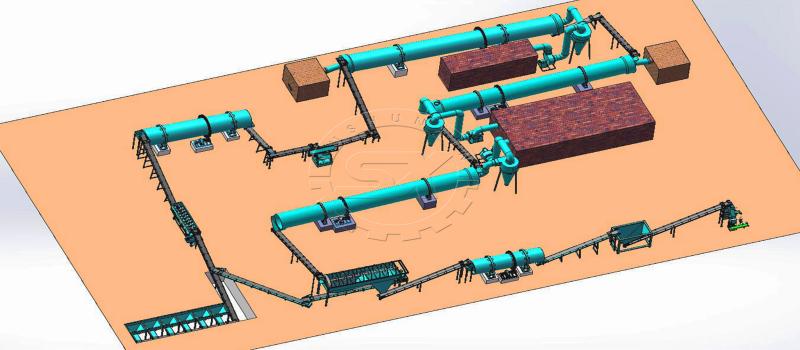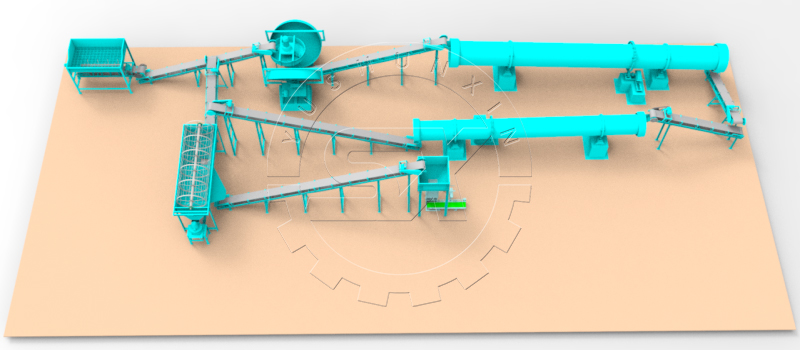 ---
What is the Features of Shunxin's High-Capacity Organic Fertilizer Production Line?
Not only granular fertilizer production line, Shunxin also provides powder production line solutions. It is not only the production of organic fertilizers, but also the production of bio-organic fertilizers after adding biological agents.
Production of particles of different particle sizes. Our granulator can customize the appropriate granulation diameter according to the needs of the customer.
Suitable for different raw materials. Whether it is animal manure or agricultural waste, etc., Shunxin can meet the production of organic fertilizer.
High automation level. Only needs 1-2 workers can require automatic production. We an customize an full automatic line for you.
---
What auxiliary equipment is needed for large-scale organic fertilizer production?
Crusher
The fermented material will have piles and impurities during storage, so you cannot use it for granulation directly. It is very important to crush the fermented material into powder. In fact, this is an essential step in order to improve the quality of organic fertilizers. Shunxin factory has a variety of crushers to choose from. Generally, semi-wet material crushers, vertical crushers, and disc crushers are our three most popular crushers.
Belt Conveyors
The first thing you need to look at is some belt conveyors, which act as bridges throughout the production line. It can send crushed materials to the next procedure, thus saving manual handling.
Screening Machine
The screening machine is located after the granulator. It can sieve finished products, waste products and some powdery particles. Therefore it greatly improves the granulation rate of the entire production line, ensuring that your raw materials will not be wasted.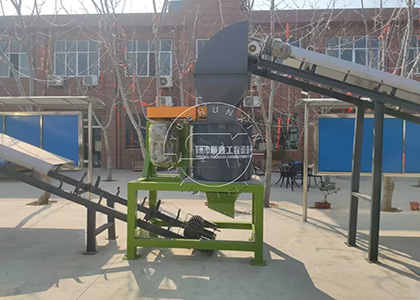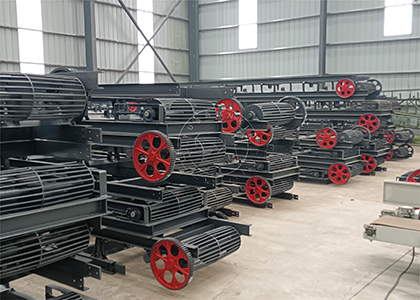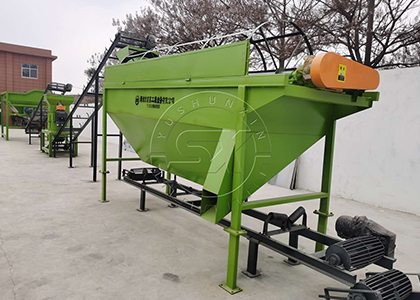 Dryers and Coolers
Since the production of organic fertilizers mostly adopts wet granulation, the finished granules contain relatively high water content. Due to high humidity,you cannot package it directly. It must be dried in a dryer and cooled in a cooler before it can enter the final packaging process.
Packing Machine
Of course, an automated production line cannot do without our automatic packaging machine. The packaging machine is controlled by computer, with precise quantitative and automatic sewing. Then for more effective large scale organic fertilizer production line, you can add a palletizer at the end.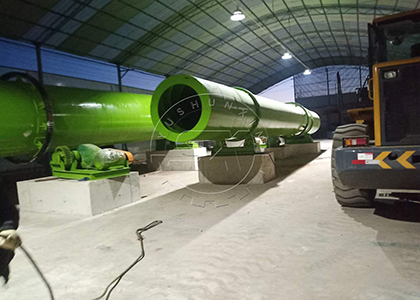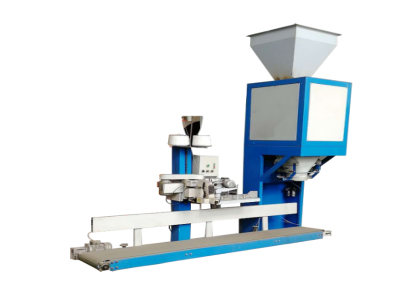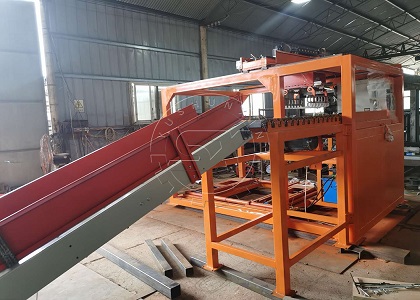 No matter which raw material you have, the above organic fertilizer making machines can meet you needs. Of course, there are some differences depending on the customer's choice. You can choose more investment and more refined production, which will definitely bring higher quality organic fertilizers and higher benefits. But as long as you make good use of it, your organic fertilizer plant will flourish.
---